STEM Education continues to be a priority for us at South Henry! We are thankful for teachers who continue to gain new and exciting credentials to better serve students. Congratulations to Ms. McKellar who recently gained her Launch certification to add to her Gateway Medical Detectives and Gateway Design and Modeling. And, thank you to Mrs. Stevens for her investment in others. Did you know? Tri Elementary School is one of only 42 schools in the state who are a "PLTW Distinguished School". This is great news for our kids! Great things are happening at South Henry!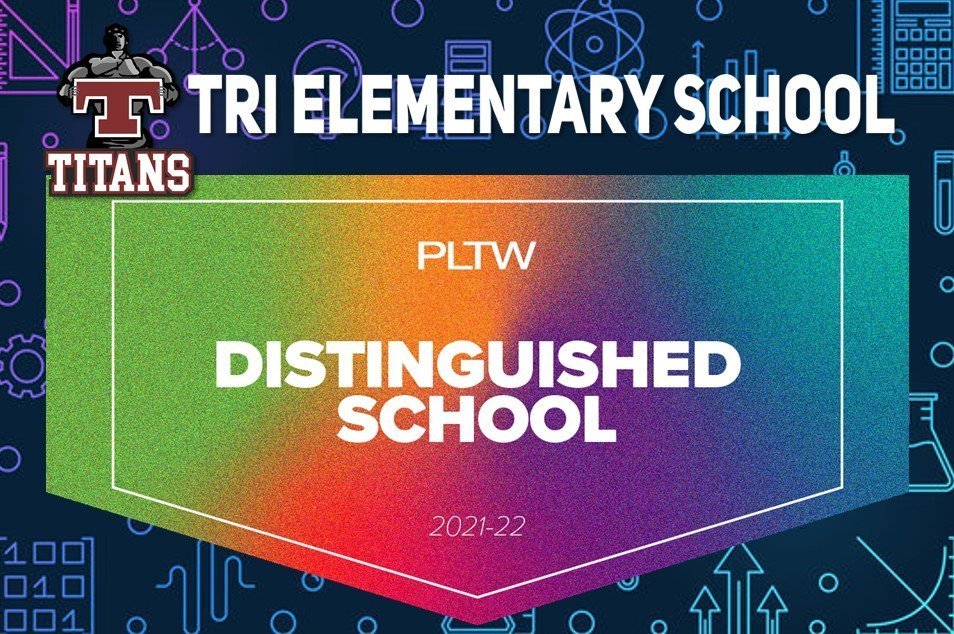 Titan parents of girls in grades K-5th interested in playing basketball this winter, it's time to sign up! Your daughter should have received a flyer with information and a Google Form to fill out. This needs to be completed by October 17th. If you have any questions or need additional information, Coach Cook can be reached at
ecook@shenry.k12.in.us
. Go Titans!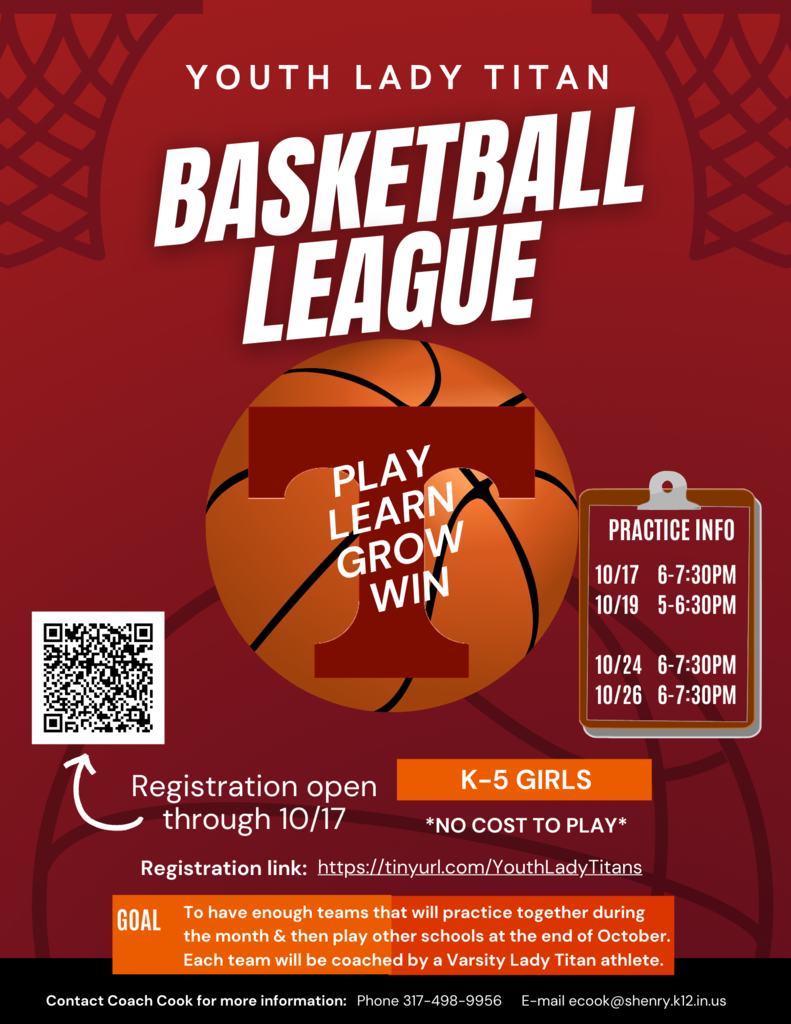 Reminder! Tri 8th grade students will be holding a fundraiser at 1000* Pizza on Monday, October 3rd from 5-8PM. 15% of sales from those showing the fundraiser flier will go toward their trip to Washington DC in the spring. Go Titans!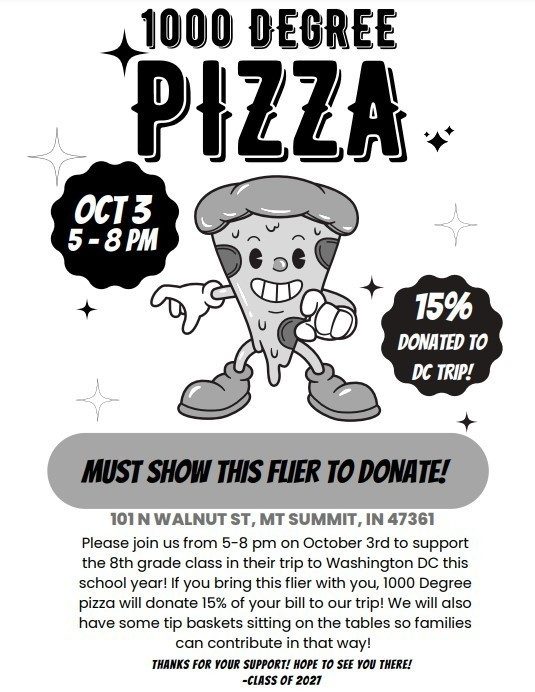 Titan parents of boys in grades 2-6 interested in playing in the Dirt Road Basketball League this winter, it's not too late to sign up! You son should have received paperwork with a waiver that needs to be returned to Coach Stotler at school as soon as possible. If you have questions or need additional information, Coach Stotler can be reached at
tstotler@shenry.k12.in.us
. Go Titans!

After three semi loads of topsoil and a lot of elbow grease, our baseball diamond now has new sod. It looks awesome! Great things are happening at South Henry!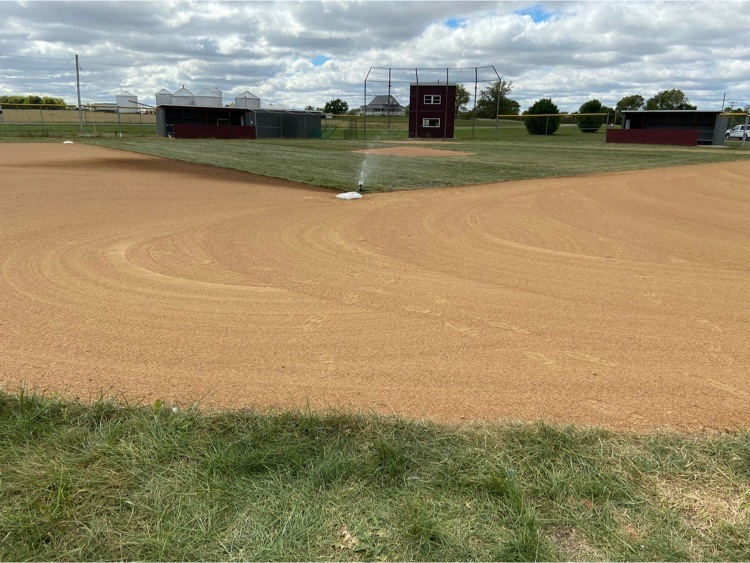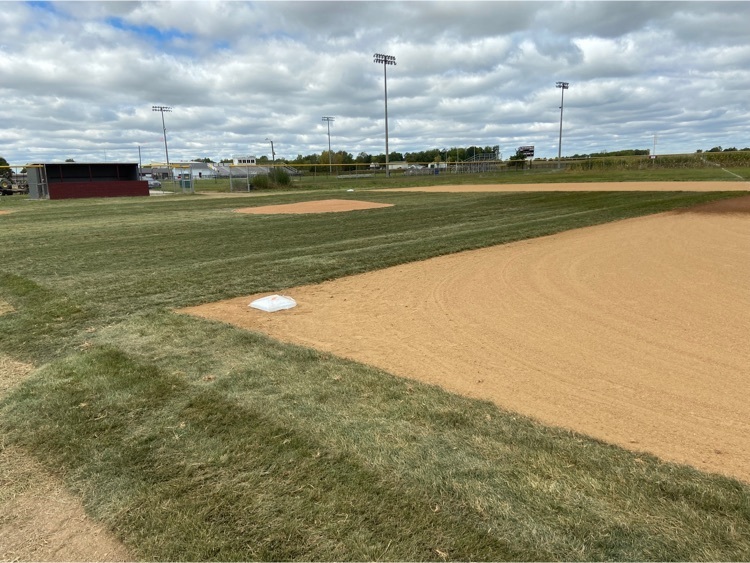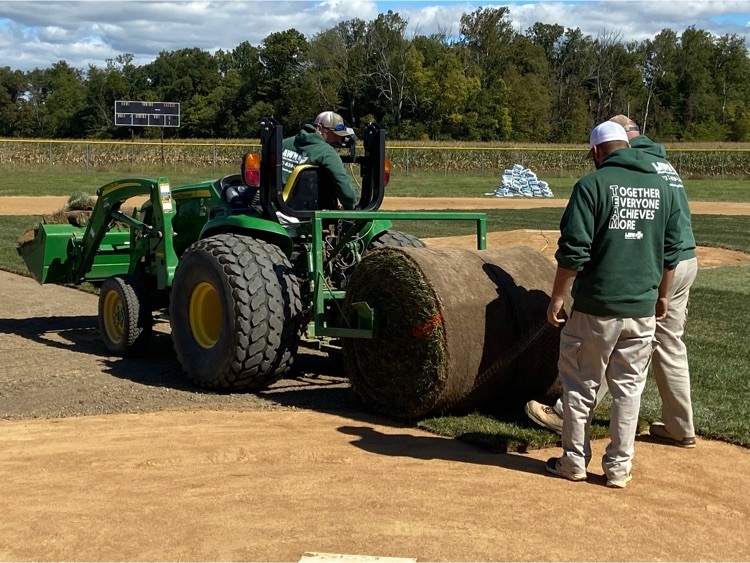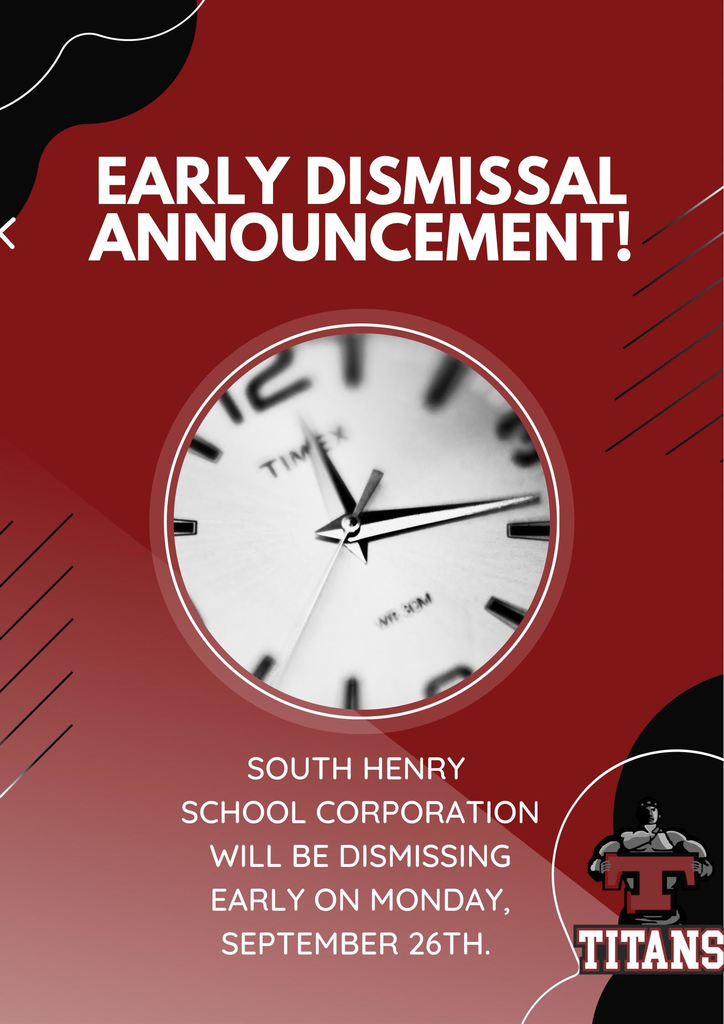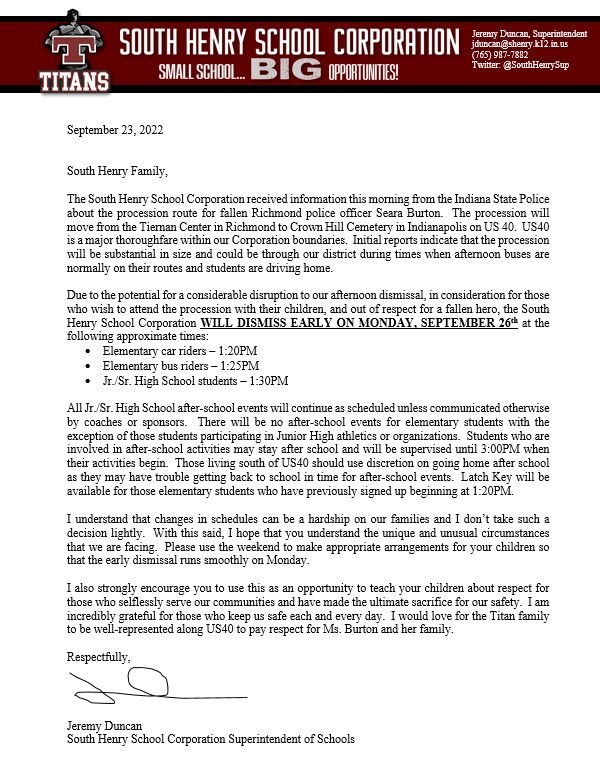 Phase two of our baseball diamond renovation is underway with removal of the former diamond surface. This will be followed by a complete rebuild of the infield. Great things are happening at South Henry!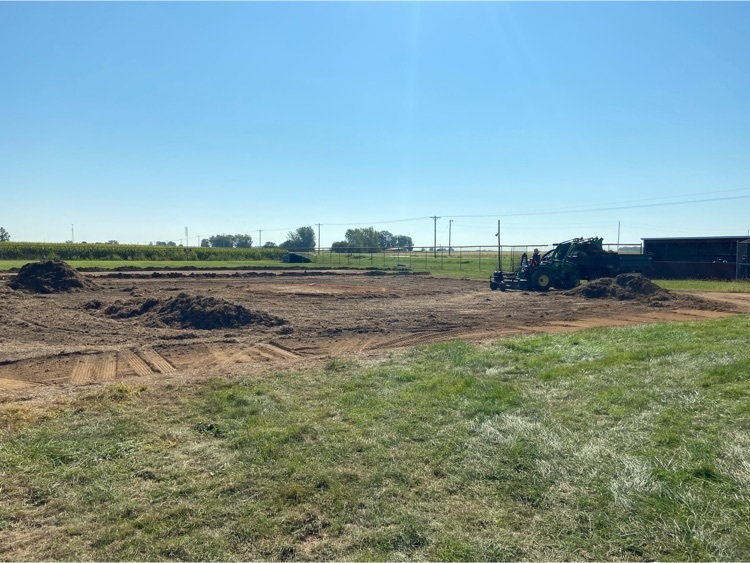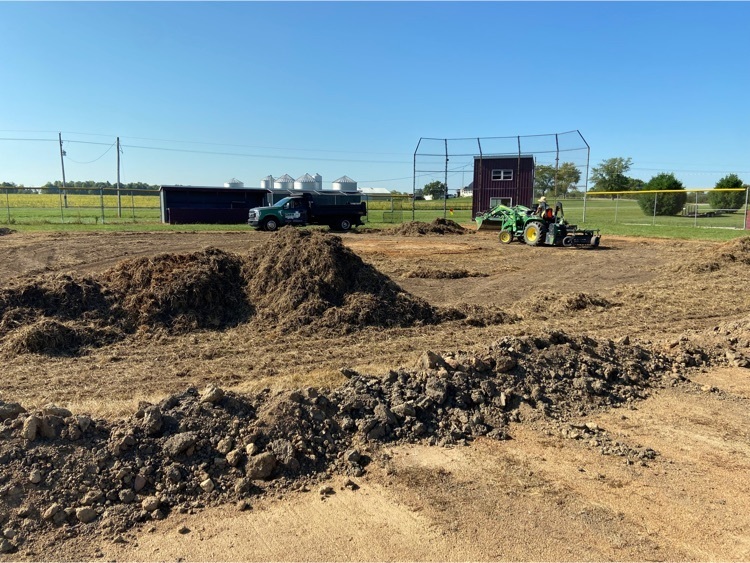 Our family is growing! Do you know a Special Education teacher who would make a great fit for Tri starting in January? Possibly a December college graduate who is doing their student teaching now? Please feel free to tag or share. Thanks!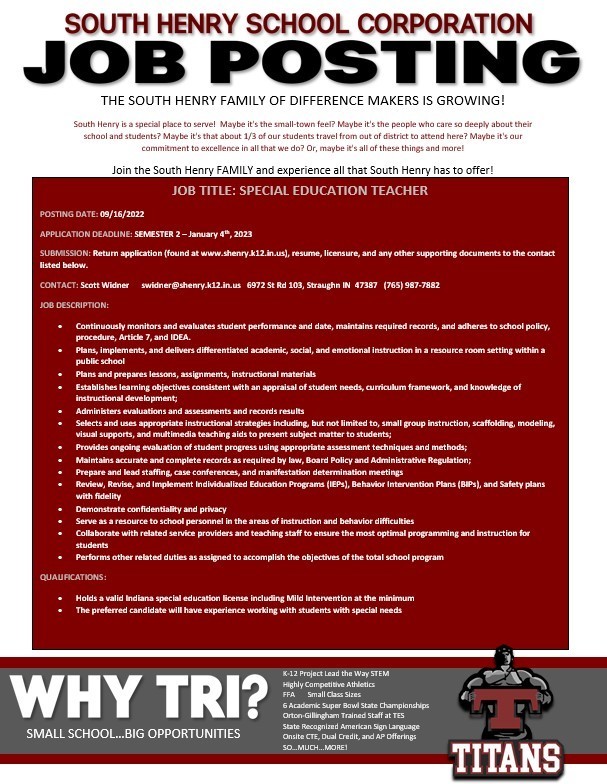 If you are coming to tonight's BIG home football game against Centerville, don't forget to bring those used shoes to support our National Honor Society. We appreciate your support! Go Titans!

Reminder! At the start of the pandemic, federal funding was utilized at South Henry to provide internet connectivity assistance in homes to many of our families in the form of either "hot spots" through Verizon Wireless or supplemental Wi-Fi payments through NLBC. This is a reminder that funding for this initiative will expire at the end of September, 2022. "Hot spots" will no longer function and supplemental payments to NLBC will end after September 30th. If home connectivity is an issue for your child after September, please contact your child's principal. Go Titans!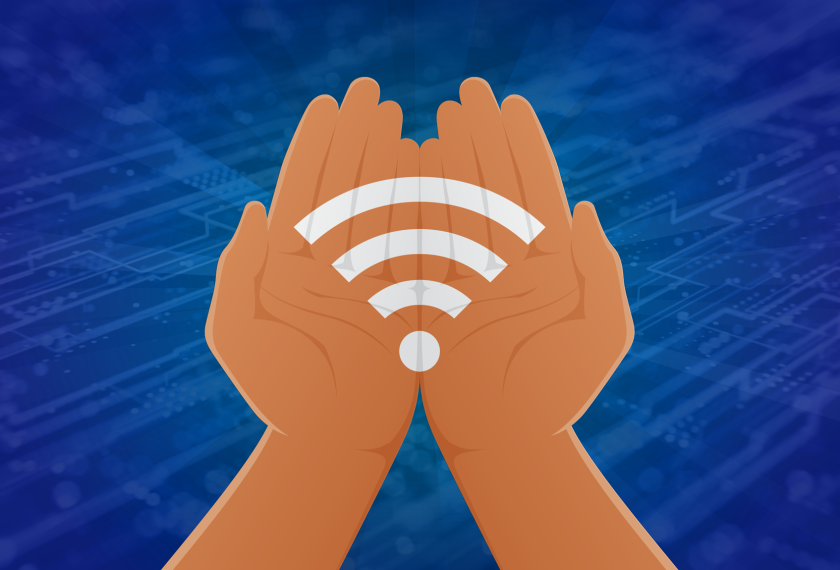 With this morning's fog and as we enter into a season of colder weather, it is a great time for a reminder on how decisions about weather-related delays and closings occur for the South Henry School Corporation. Making the call to delay or cancel school can be tricky and often times, it's difficult to please everyone. Conditions can change by the minute and deadlines loom large. We hope this document outlining our steps might help the South Henry family better understand our decision-making process. Ultimately, the safety of the South Henry family is most important! Thank you in advance for your patience and understanding as we work to make the best decisions for the safety of all of our people.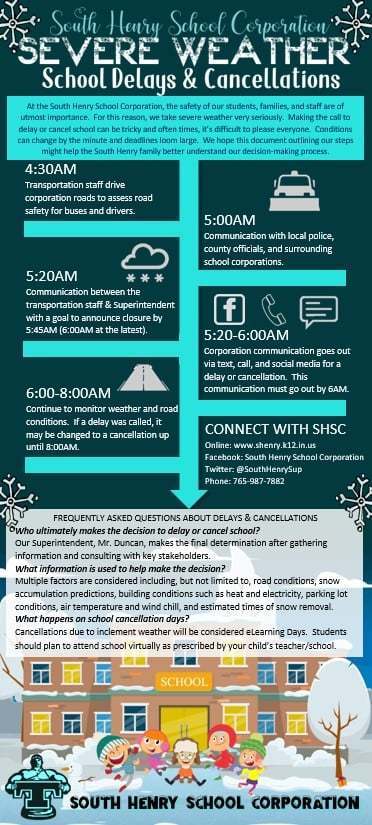 New TITAN gear - hot off the press! 100% off profits go to the Tri Titan football program! Money and order forms can be returned to the Jr./Sr. High School office, to Coach Totheroh, or to the concession stand at the Varsity football game this Friday night (there will be an envelope in there). Please note: there will be 2 phases of orders! If you don't get your orders turned in by this Friday, we will be accepting orders until September 30th (homecoming). *The earlier you get your orders in the earlier you can your TITAN gear*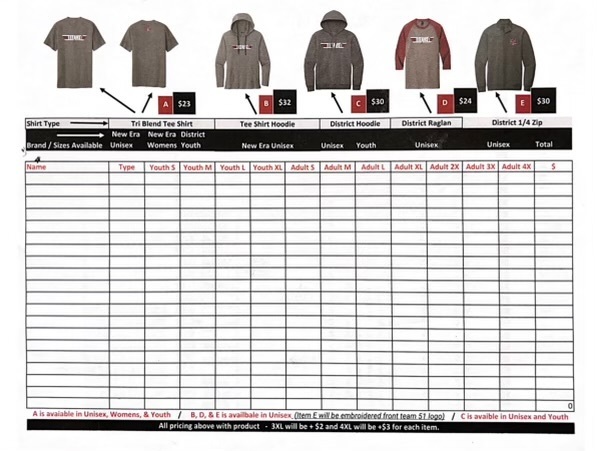 Look at all of the awesome things our FFA has done just in the month of August! A huge shout out to our Chapter Reporter, Annabelle Searcy, for reinstating our The Gold Standard Chapter Newsletter for all of us to read! Great things are happening at South Henry!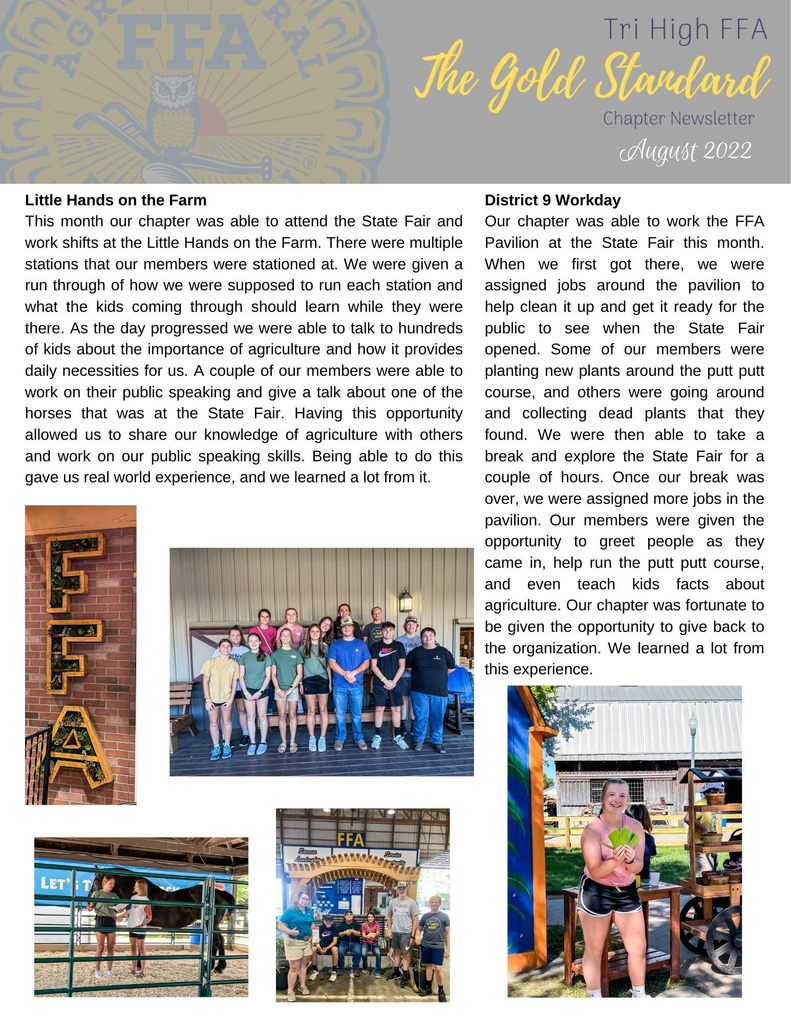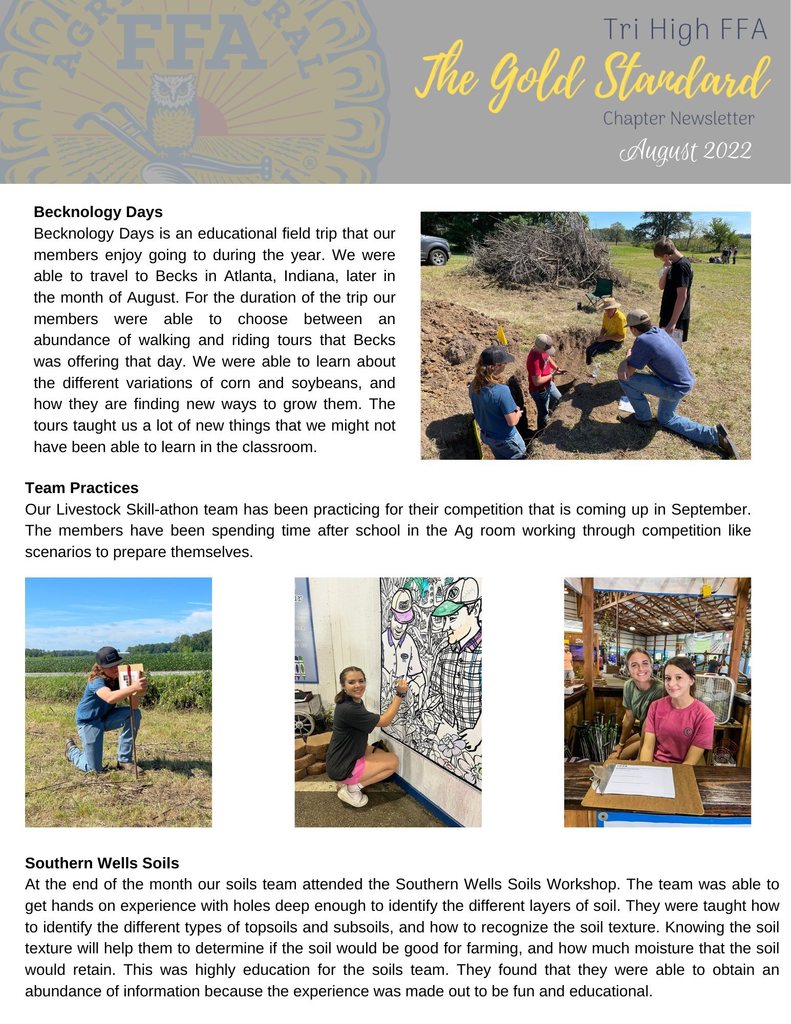 We are elated to announce that Bev's Kindergarten Prep and Childcare is coming to South Henry! Through partnerships between the Hope Initiative, the Henry County Childcare Network, and the South Henry family; and with financial assistance from the Henry County Community Foundation and Early Learning Indiana, the center is set to open October 3rd, 2022 in Tri Jr./Sr. High School. THE BASICS -Available for children ages 3-5 -Vouchers accepted -Daily and Weekly rate dependent upon income-based sliding scale -Open 6AM-6PM -Space is limited The application can be found here:
https://5il.co/1hp7v
For more information, please contact
bkp@shenry.k12.in.us
. Great things are happening at South Henry!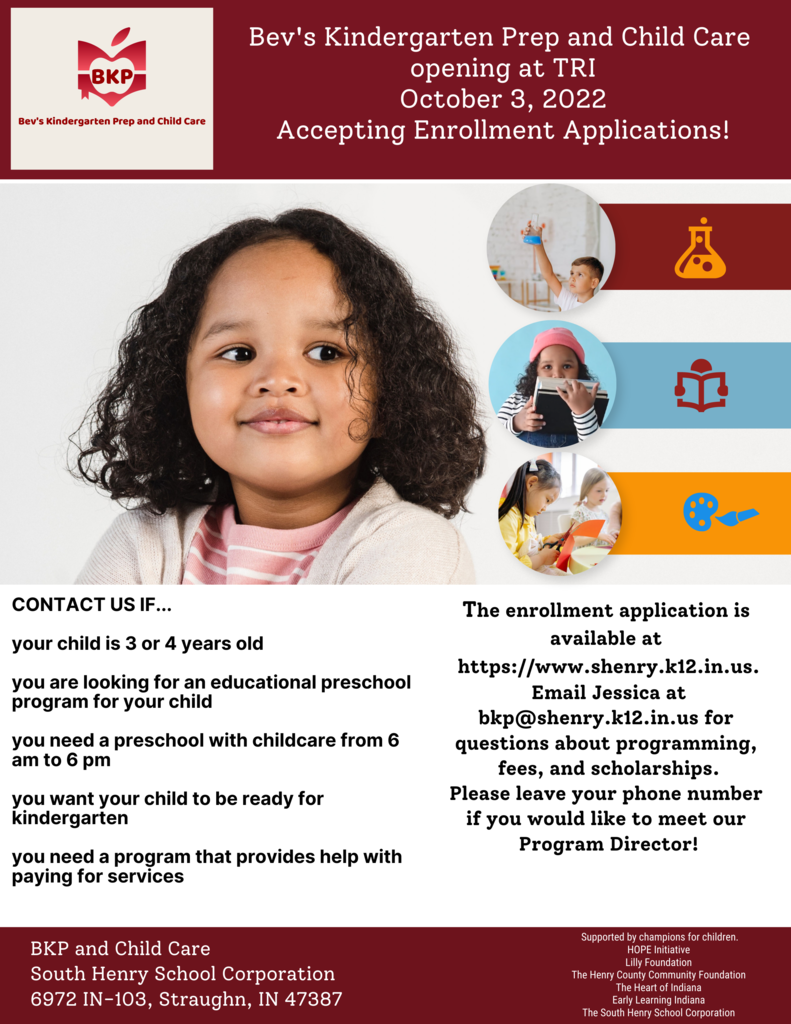 Check out these new opportunities to join the South Henry Family of Difference Makers! Elementary Instructional Assistant - $11.50/Hr. Health Aide - $11.50/Hr. up to $15.00/Hr. Bus Driver - $95/Day More information and application materials can be found at
www.shenry.k12.in.us
under "Employment". Great things are happening at South Henry!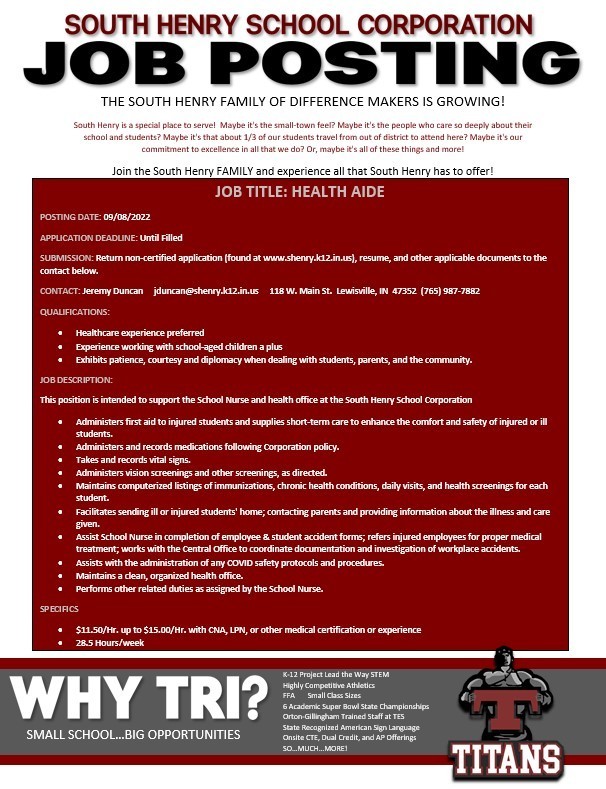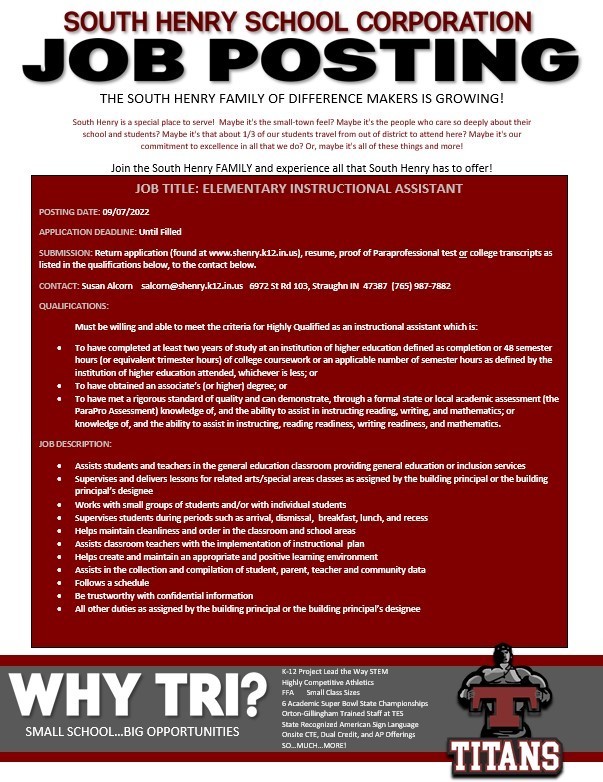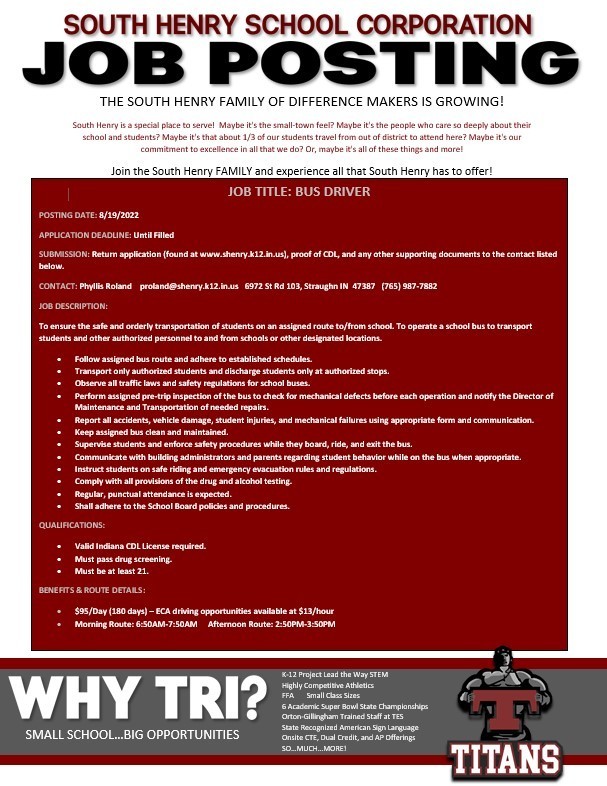 Throughout the 2022-2023 school year, students will have several opportunities to learn from home. These "eLearning Days" are school days and should be treated as such, with students accessing our curriculum virtually. With that said, not all eLearning Days are the same. In order to conduct Professional Development, the South Henry School Corporation has 6 scheduled eLearning Days this school year. On these days, instruction will be asynchronous. This means that students will not be meeting with teachers at scheduled times. Work will be pushed out to students and teachers will be available through correspondence during windows of time during the day to provide assistance to students. On these days, our staff will be learning so that they can better serve our children. Scheduled eElearning Days will take part on the following days: Sept. 21 Oct. 19 Nov. 16 Feb. 15 Mar. 15 Apr. 19 The other type of eLearning Days are unscheduled and occur upon inclement weather or unplanned closures. Students will follow the guidelines at their building in regards to attendance at interactive class meetings and the completion of work. At least 50% of these school days should be synchronous. This means that students will be interacting with teachers and staff members "live" for a significant portion of the school day. We appreciate your help making arrangements for your children in advance. Great things are happening at South Henry!

Work is underway on our baseball diamond field upgrades. Step one…subsurface drainage. We look forward to watching our student athletes compete on a new infield in the spring. Great things are happening at South Henry!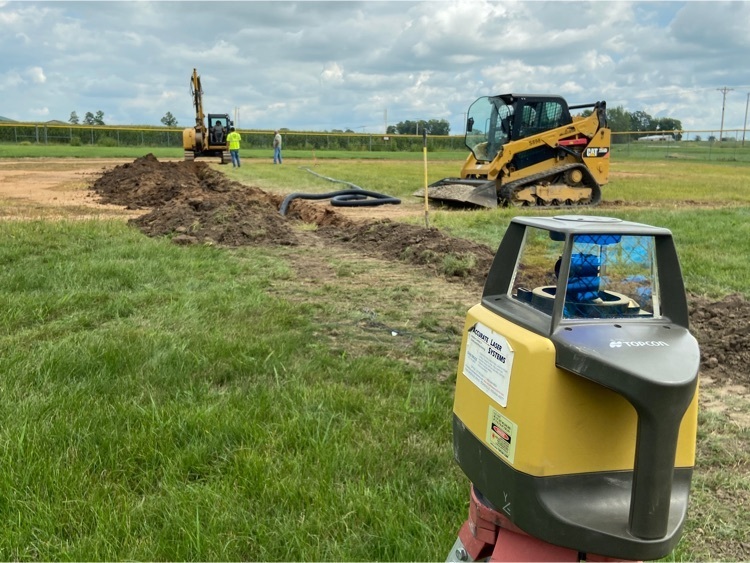 Our Boys Basketball Program needs your help! Buy a package of the best meat this side of the Mississippi from Munsee Meats and 25% of the purchase goes back to the program. It's a win-win! Pick-up is September 29th from 4:30-6:30 in our parking lot. Go Titans!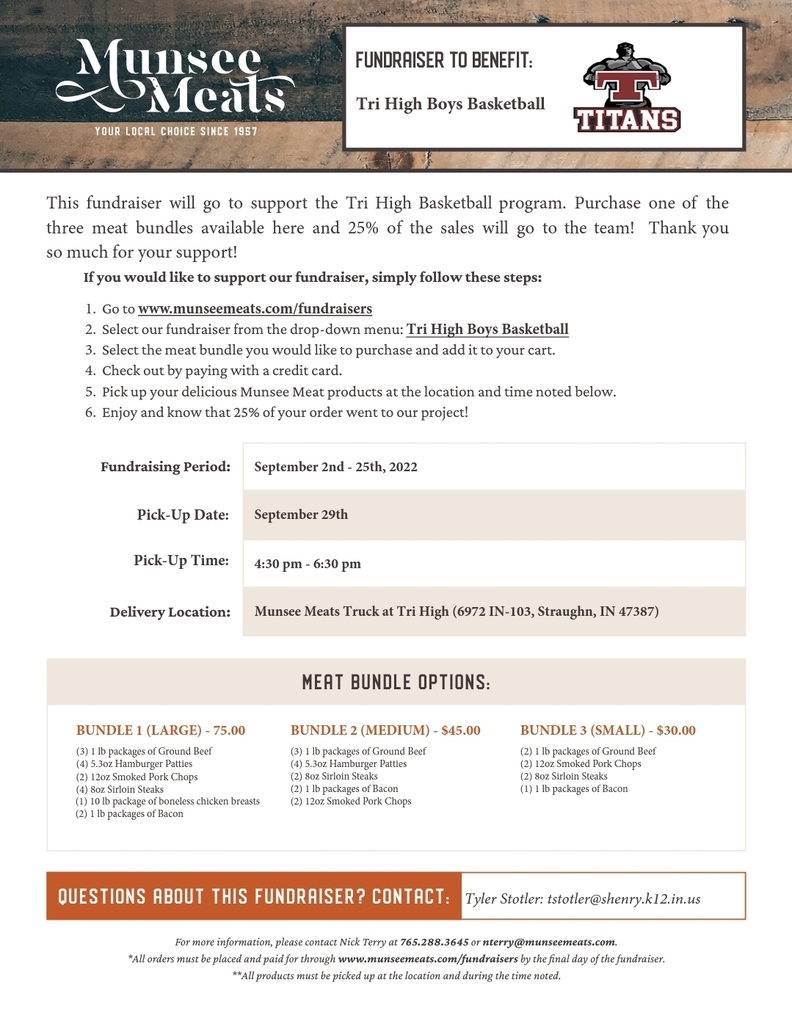 We are currently seeking a temporary Agriculture teacher. Please feel free to share or tag those who may be interested.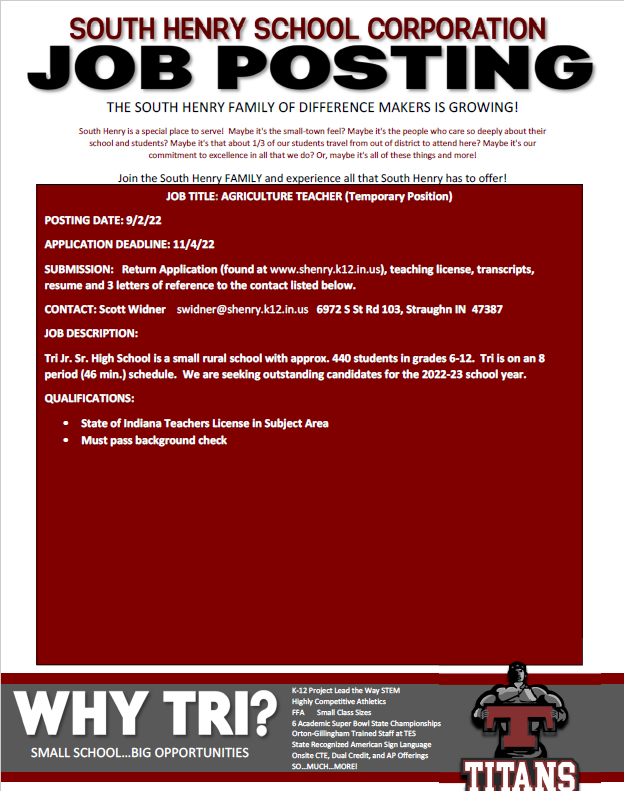 Mark your calendars and help send our 8th grade students to Washington DC. We appreciate your support!