The Lady Titan Youth basketball practice is canceled for this evening, December 1st. Games are still on this Saturday, Dec 3rd starting at 1. December schedules and announcement papers will be handed out this Saturday. Thank you, Coach Cook.

Congratulations to the Tri Elementary School Spell Bowl Team for finishing in first place in their division at their local competition this past week and 54th overall in Indiana. Thank you to Ms. Farris for coaching and Mrs. Nolley for proctoring. Job well done! Great things are happening at South Henry!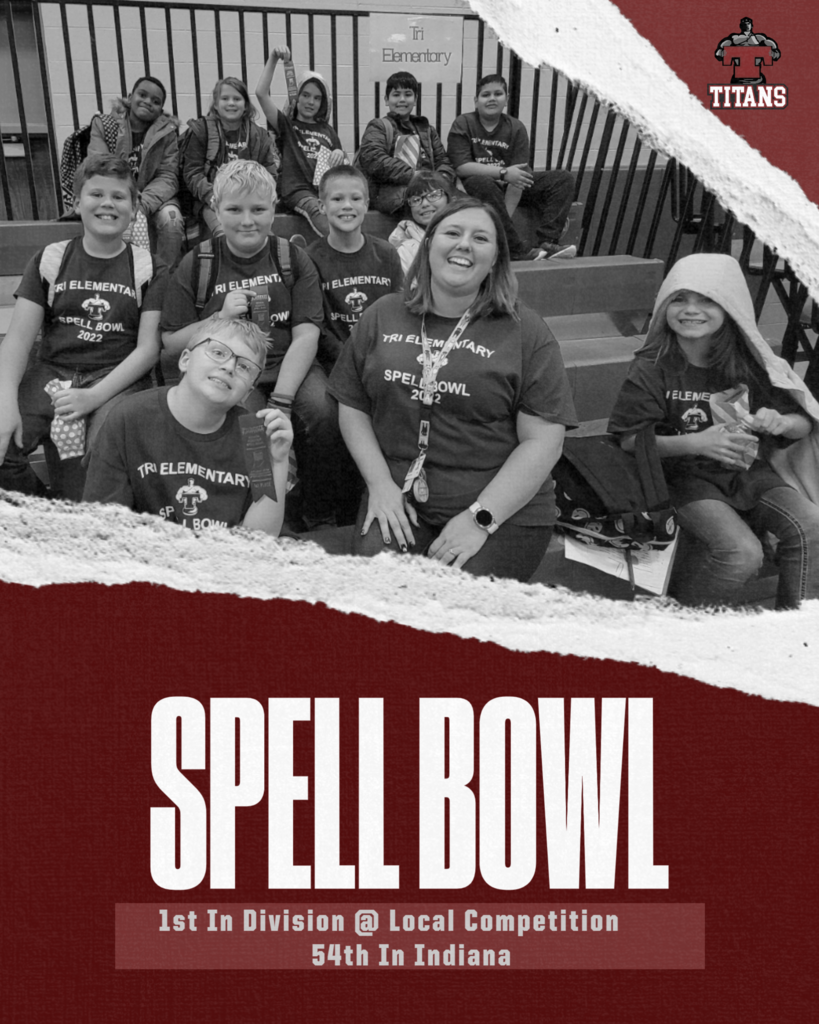 It's #TitanTuesday ! 📣 Our titan shout out this week goes to our amazing principal, Mrs. Alcorn! Today is actually her birthday! Here are some pictures that capture how amazing and wonderful she is. One picture captures all of our students lining the halls to sing her happy birthday before we left for break. We are so thankful for her and her leadership! Our Titans are so lucky to have her as their principal. Happy birthday, Mrs. Alcorn! Enjoy your Thanksgiving break. 🦃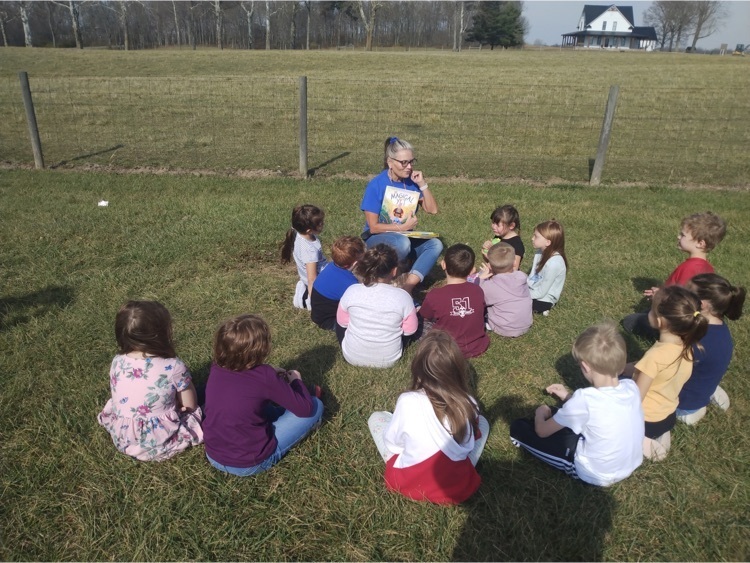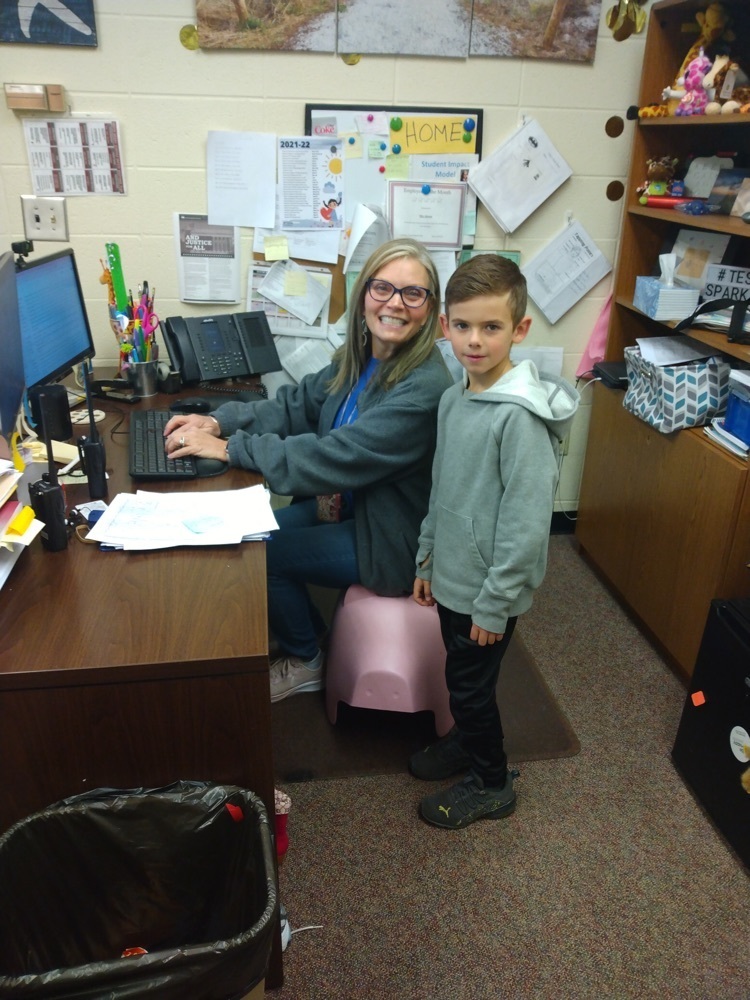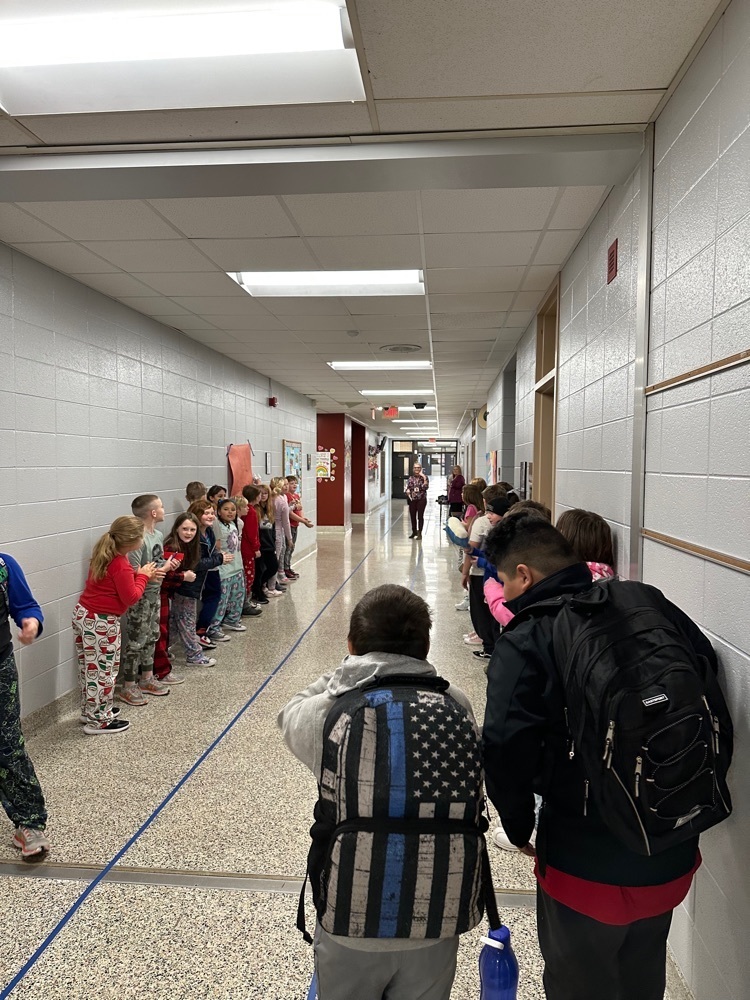 As previously announced, our very own Tri Jr./Sr. High School principal, Mr. Scott Widner, was named the 2022 Indiana Association of School Principals Region 6 Principal of the Year. He finally received his hardware and was recognized at a banquet this past weekend. We are incredibly fortunate to have Mr. Widner leading our Titan family! Great things are happening at South Henry!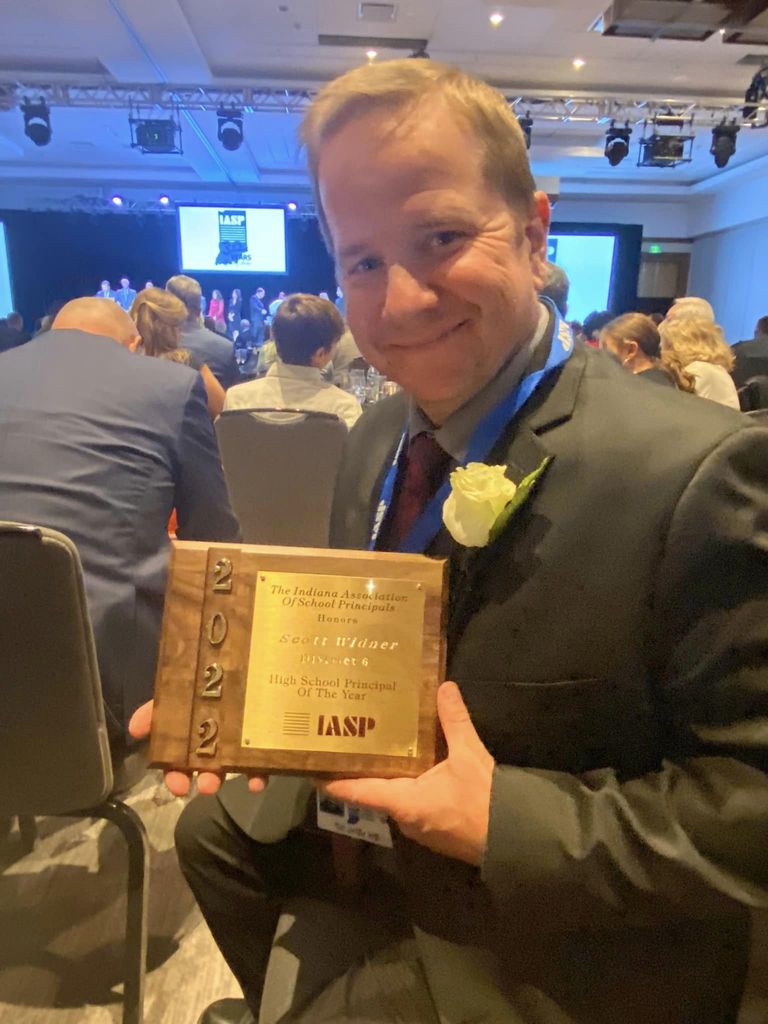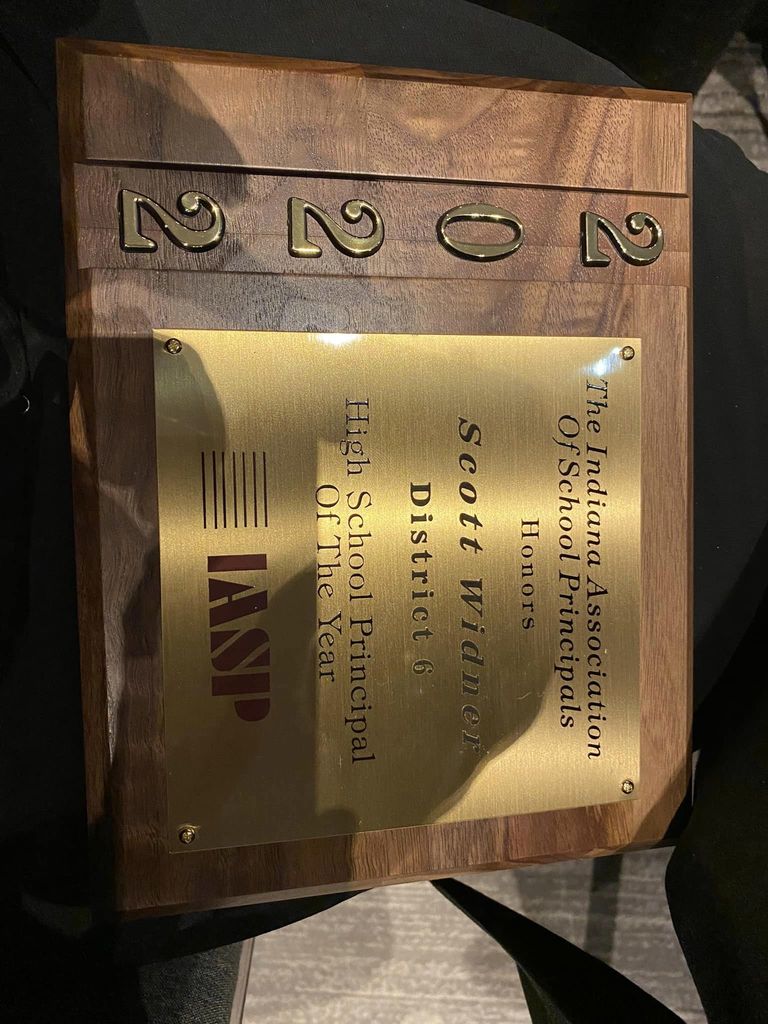 BIG EXCITING ANNOUNCEMENT! Mrs. Stevens and her two teams of young engineers have been chosen as a finalist in this year's CSforGood statewide competition. They have been invited to participate in the Nextech CSforGood Finalist Event on December 8, 2022 at the Indiana Statehouse. How cool is that?!? The two student projects were: -Corey Pugh, Irwin Fredenburg, Carter Thompson, Dylan Yanos, Hannah Caldwell and Russell Kinder created a prototype of an app that allows students who do not speak English better understand our Lunch menu. -Marlee Jackson, Harper Chandler, David Weaver, Liam Cripps created a prototype of an app that allows students to find and reconnect with their clothing item in the school's lost and found. Congratulations and good luck! Great things are happening at South Henry!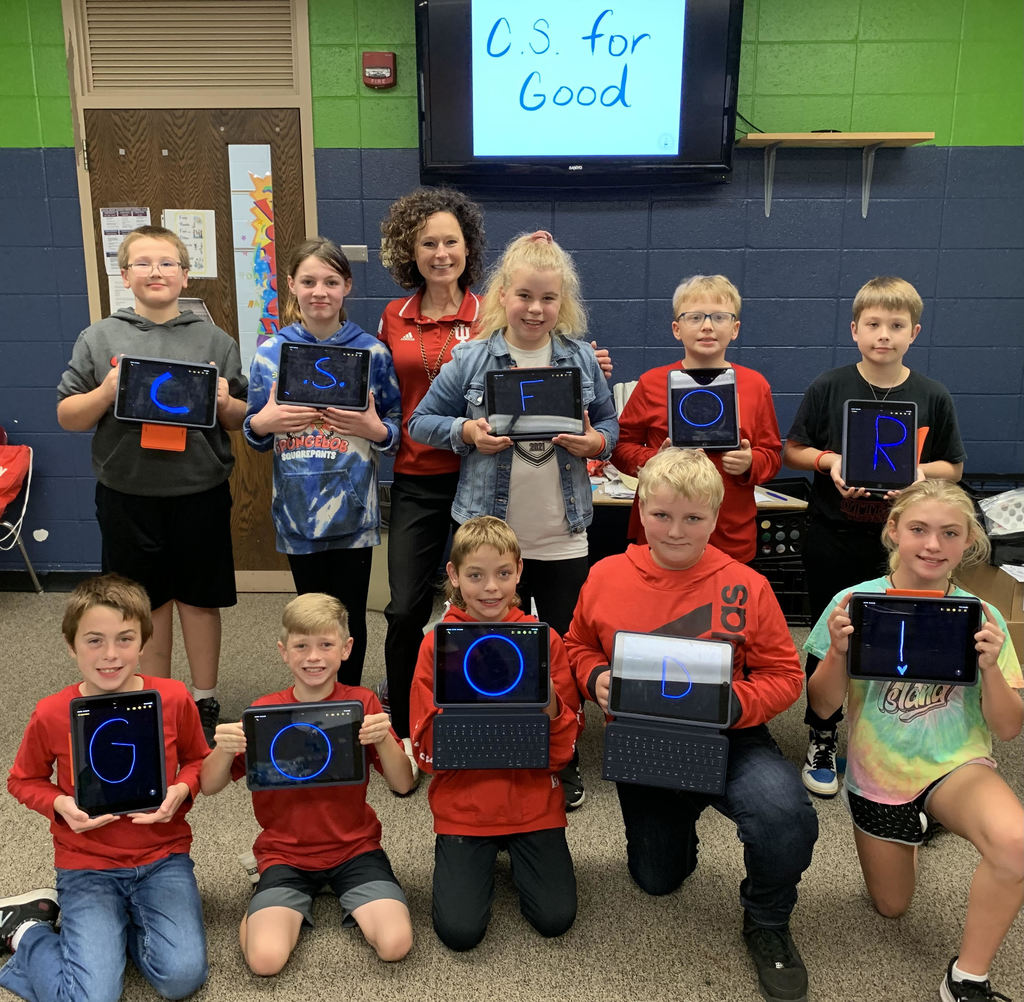 Last week, the South Henry School Board recognized Jillian Chew and Nathan Carmichael for their accomplishments in cross country during the Fall season. Nathan was a Regional qualifier. Jillian advanced to the Semi-State and was the first individual girls cross country Sectional champion in school history. Job well done!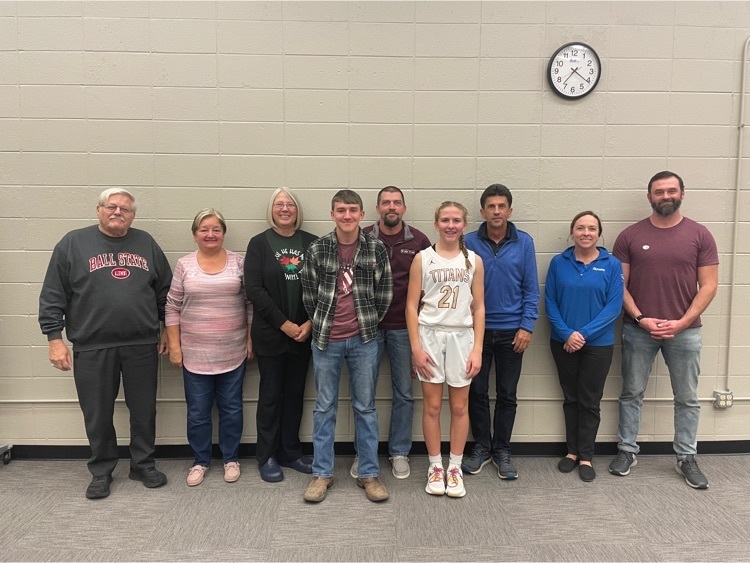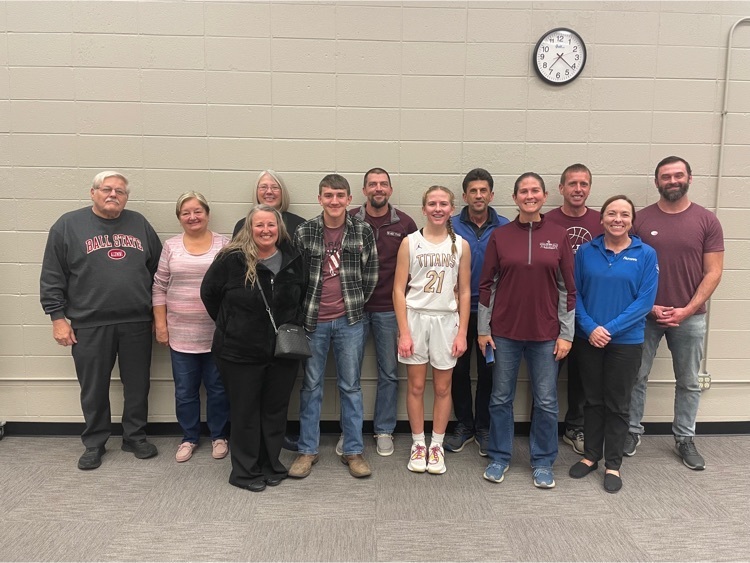 Due to patchy slick spots, the South Henry School Corporation will operate on a two hour delay today, Thursday, November 17, 2022. Please be careful as you travel to school, particularly on bridges and overpasses and in areas of blowing and drifting. Again, the South Henry School Corporation will operate on a two hour delay today. Thank you.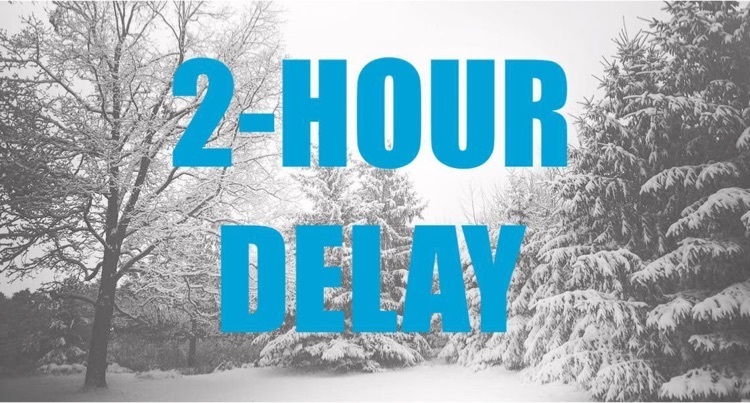 Reminder! Tomorrow is the last scheduled eLearning Day of the first semester for Tri students. Students should plan to learn from home as staff members participate in professional development. The next scheduled eLearning Day will be February 15th, 2023. In the event of hardware or software issues tomorrow, please reference the flowchart that can be found at:
https://www.shenry.k12.in.us/article/910856
GO TITANS!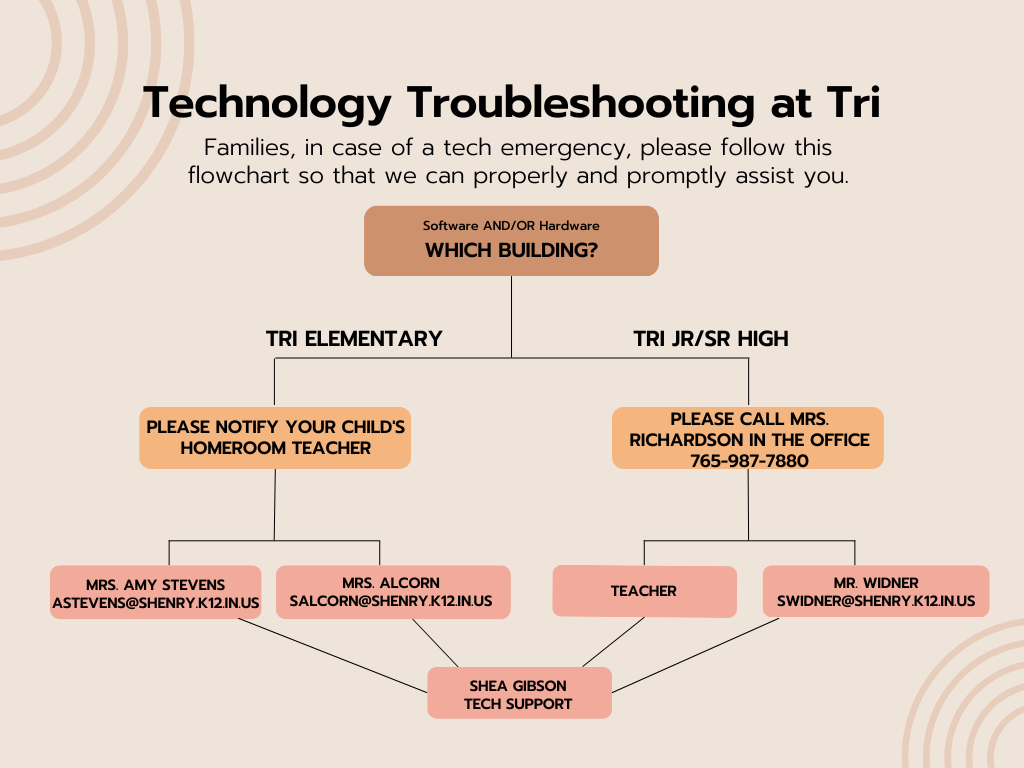 This past weekend, our Drama Club student actors presented "Who Poisoned His Meatball?" This hilarious dinner show was a blast for our students and for those who attended! JOB WELL DONE to our students and their sponsor, Mrs. Claar. We are proud of you! We are also very proud of the variety of opportunities that our provided to our students at our small school. Great things are happening at South Henry!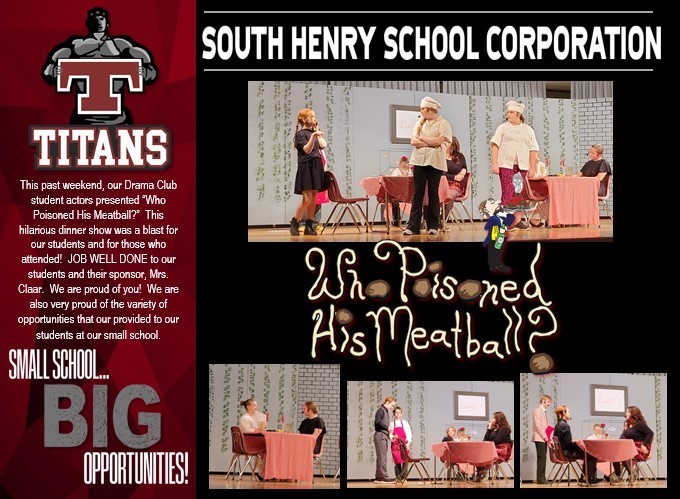 Check it out! Our very own, Amy Stevens, had the opportunity to present with the AppleEDU team at Indiana largest EdTech conference, HECC, this week. It is so great to see those in our Titan family making a difference both here at Tri and beyond. Great things are happening at South Henry!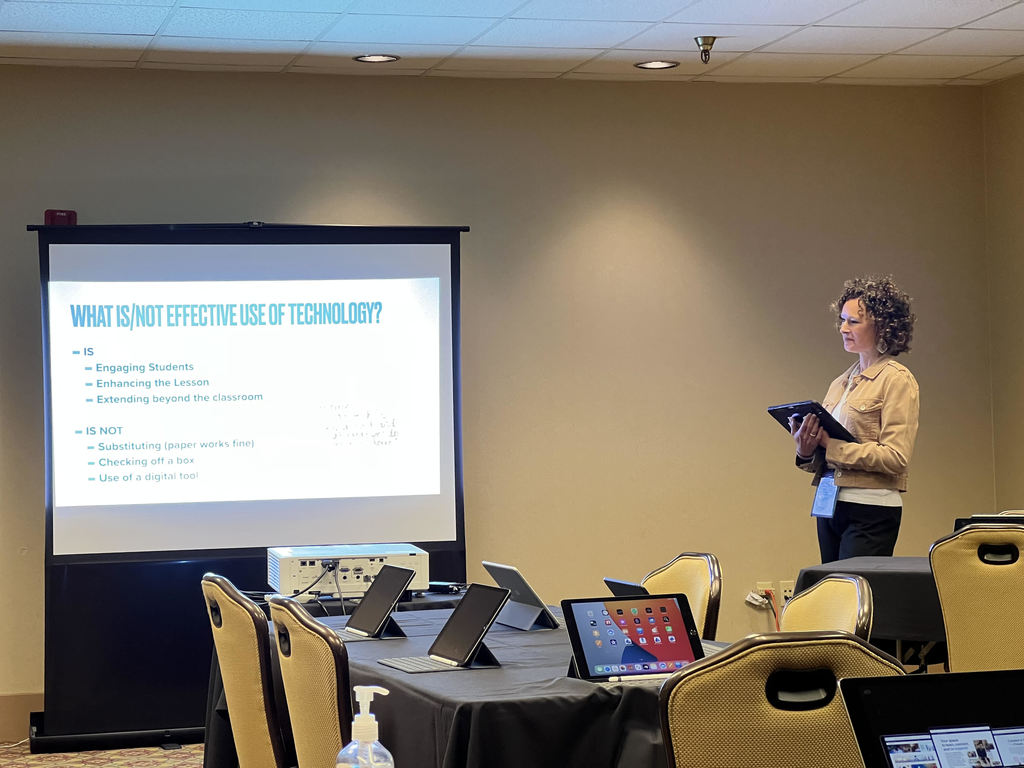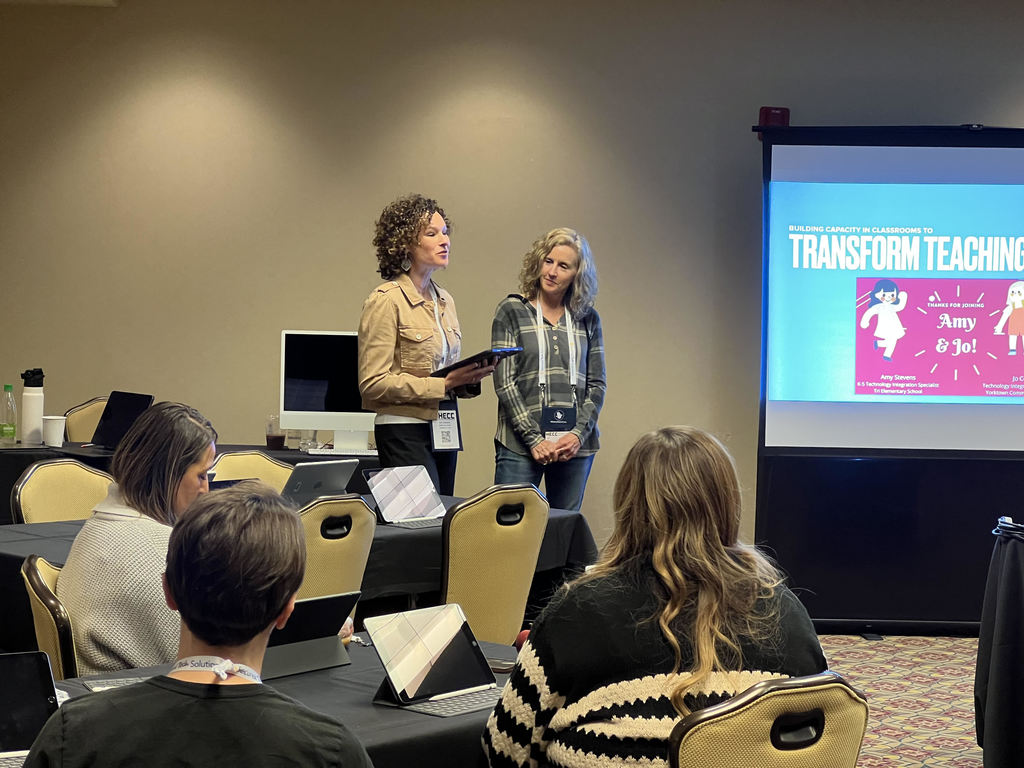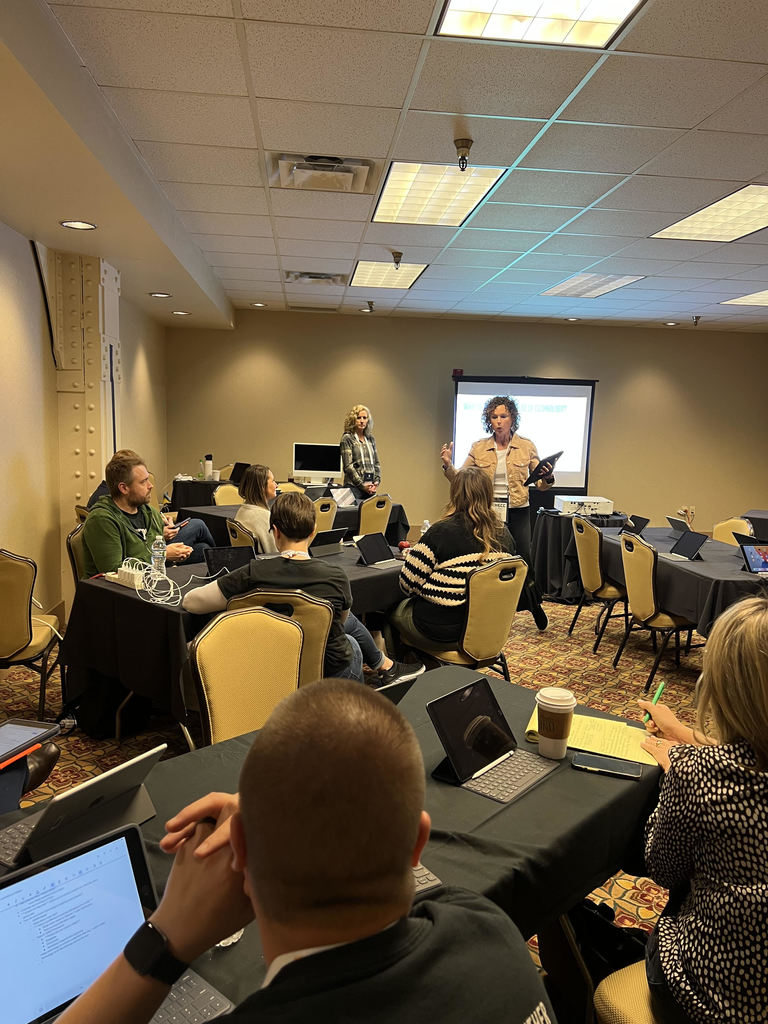 Our 2022 Veteran's Day Program was a success! Thank you all of those who helped make this special day of recognition happen. More importantly, A HUGE TITAN THANK YOU to the many men and women in our community and beyond who have selflessly served so that we may enjoy the blessings of freedom. We are grateful! Great things are happening at South Henry!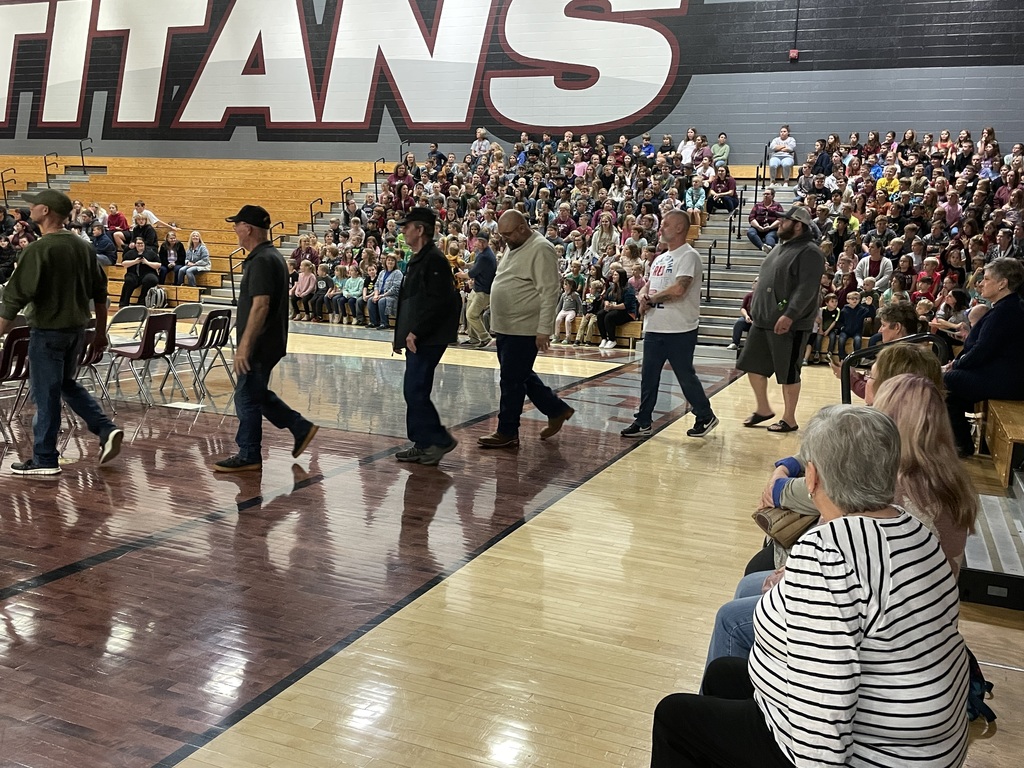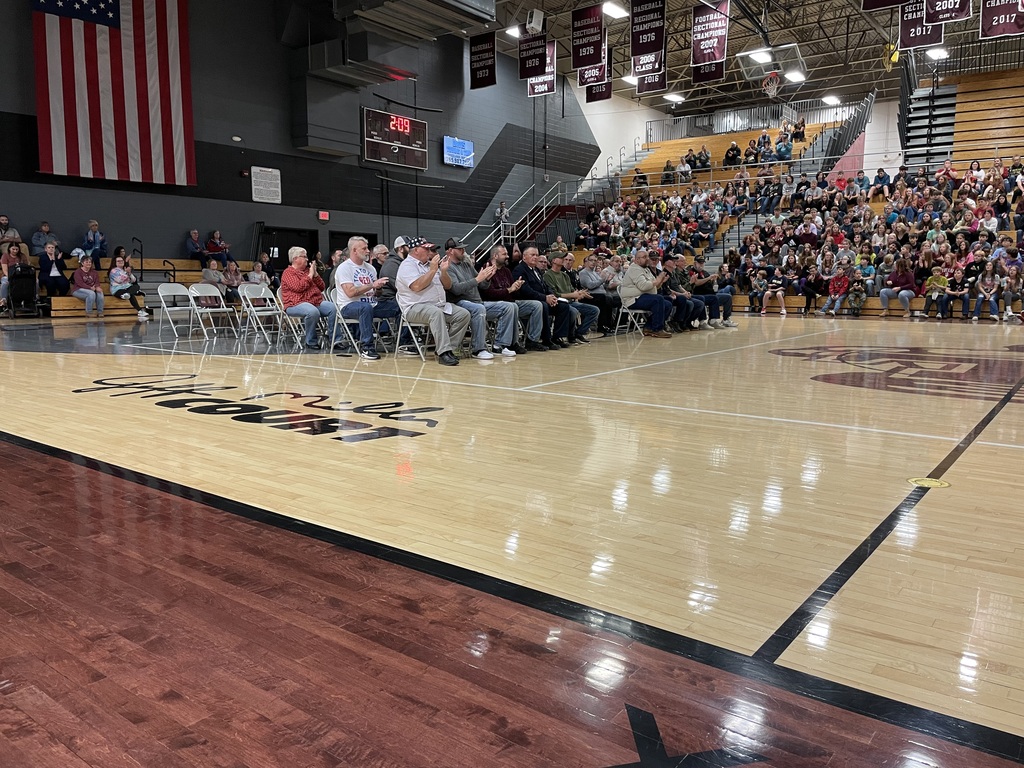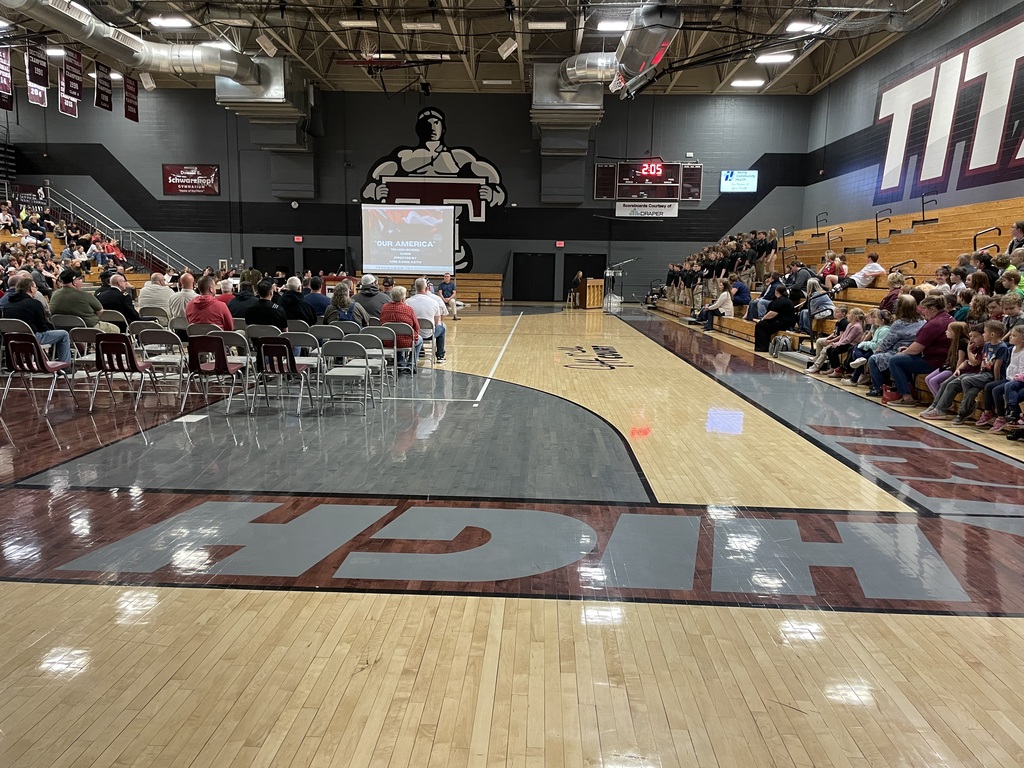 eLEARNING SURVEY: It is our goal at South Henry for all educational opportunities for our students to be rich, meaningful, and engaging. This includes our six scheduled eLearning Days, as well as any unscheduled eLearning Day for unexpected closures. We are hopeful that the short 5-10 minute survey below will help inform us to better meet the needs of your child/children on eLearning Days. This survey may be completed on your personal computer or mobile device. THANK YOU FOR YOUR PARTICIPATION!
https://forms.gle/Vkdex1TfgotyN3gV8

Thank you in advance for your support of Tri Elementary School's Food Drive sponsored by the Titan Times Newspaper.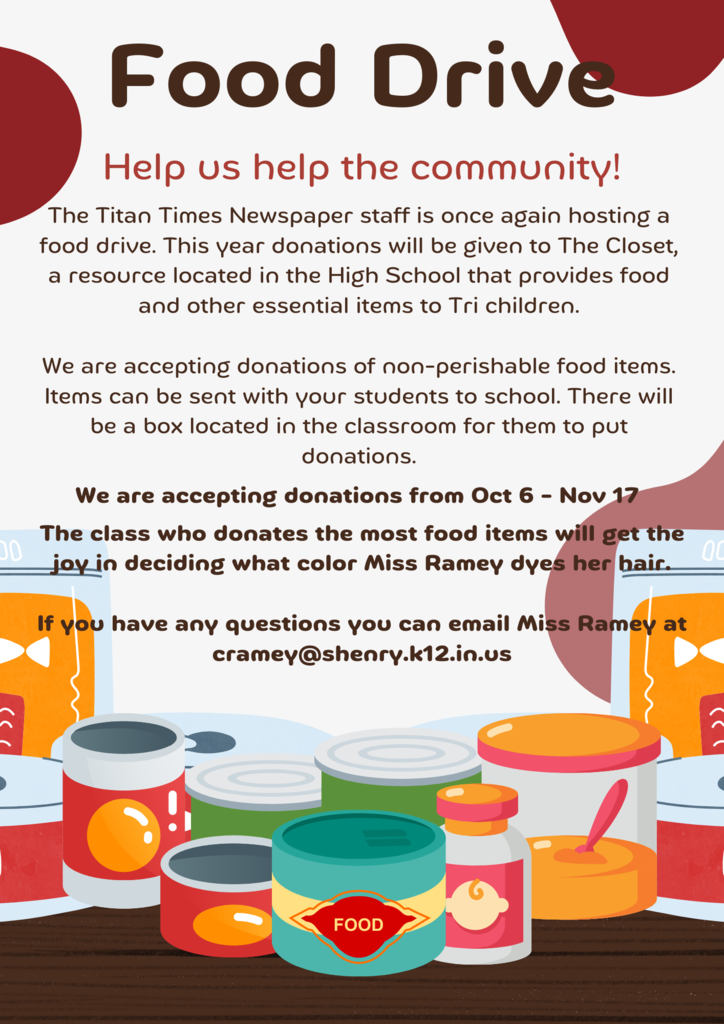 Here is a great opportunity to give! Go Titans! Thank you to our Titan newspaper club for hosting and organizing this event. 📰

Did you know? Bev's Kindergarten Prep and Child Care is open at Tri! This low cost option is an excellent opportunity for your children, ages 3 to 5, to be better prepared for Kindergarten through half-day and full-day educational programs. Hours are 6 am to 6 pm, and scholarships are available to assist with tuition. If interested, visit our website,
https://www.shenry.k12.in.us/page/bevs-kindergarten-prep-and-childcare
, to fill out an application or call 765-524-9070. Go Titans!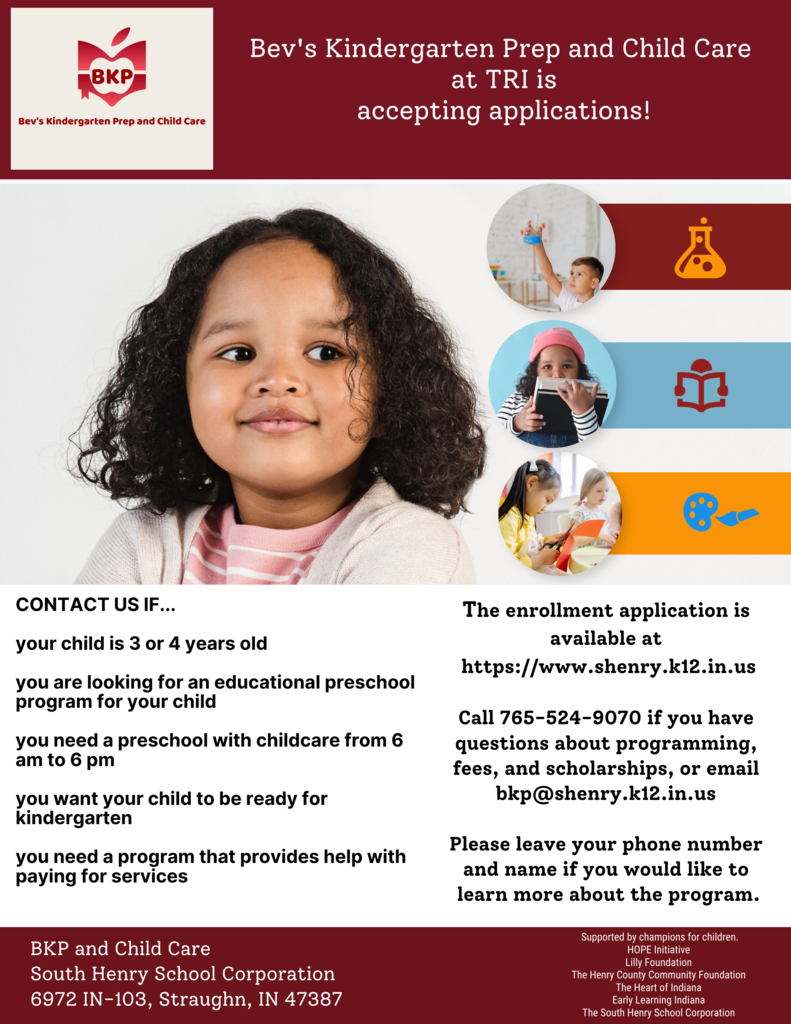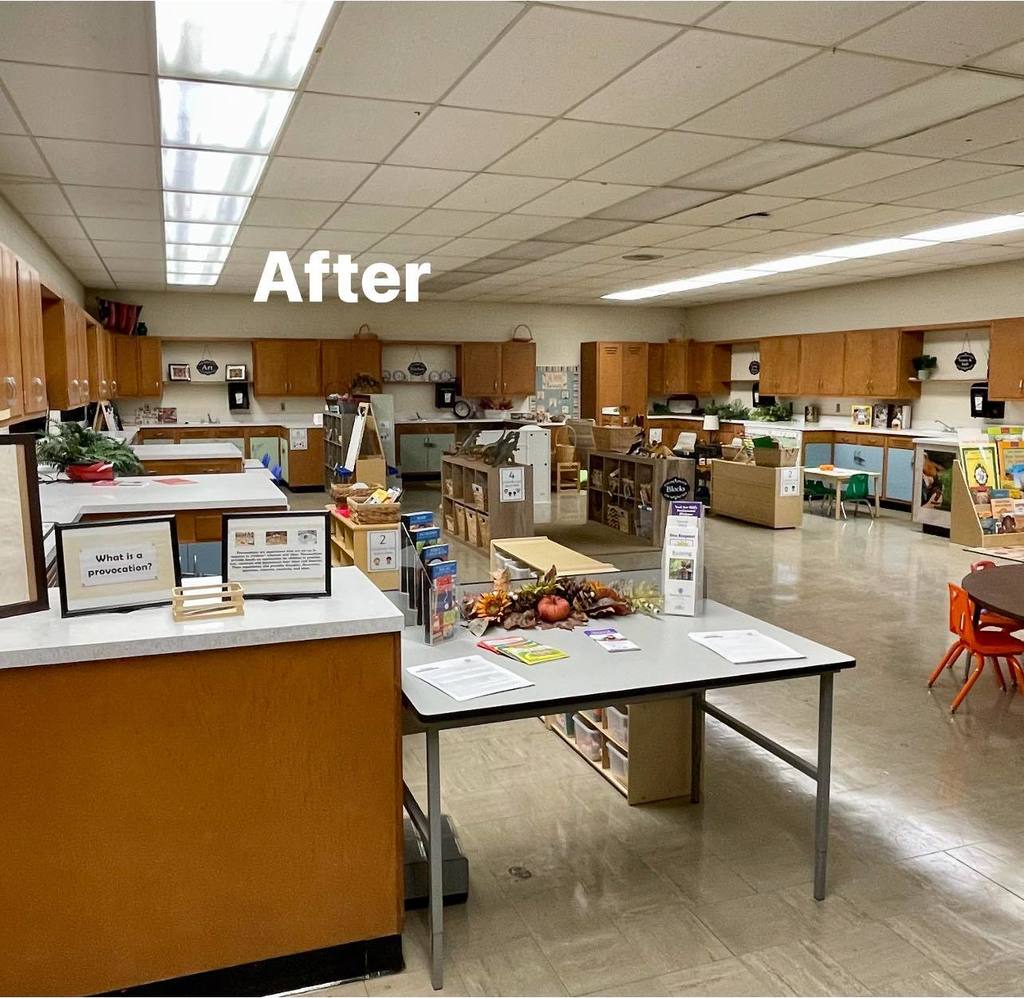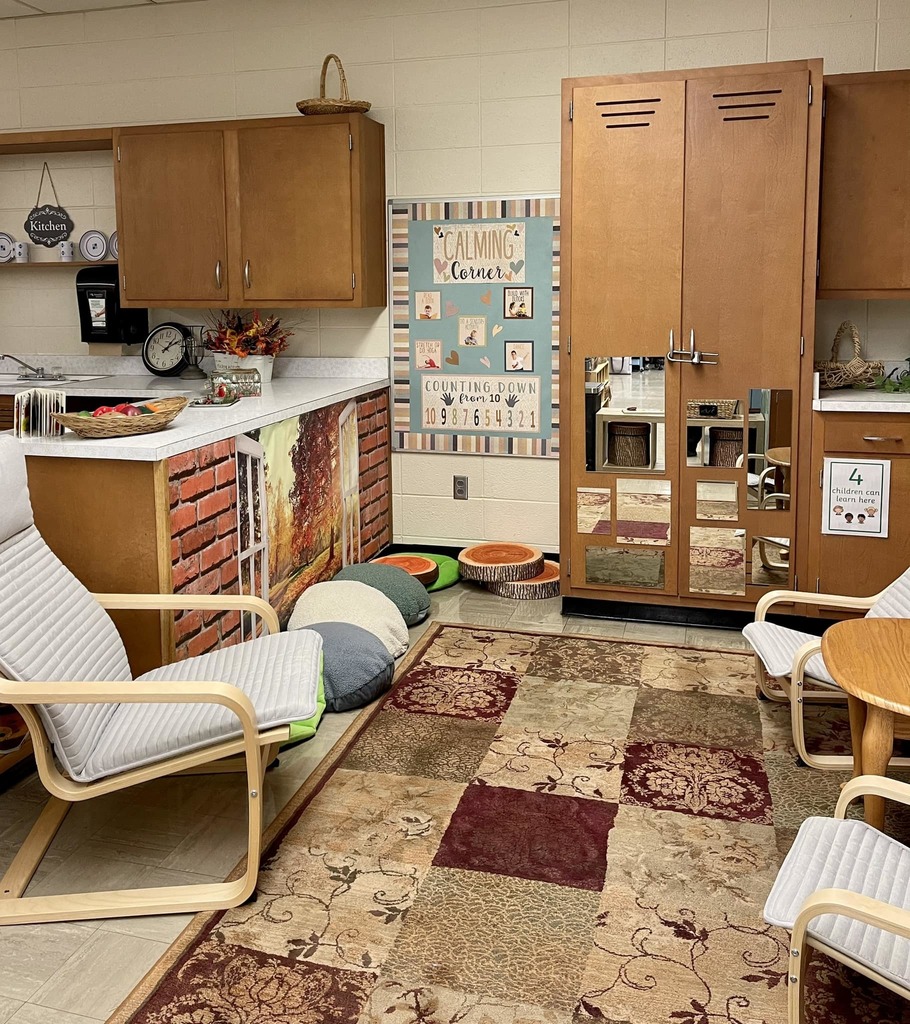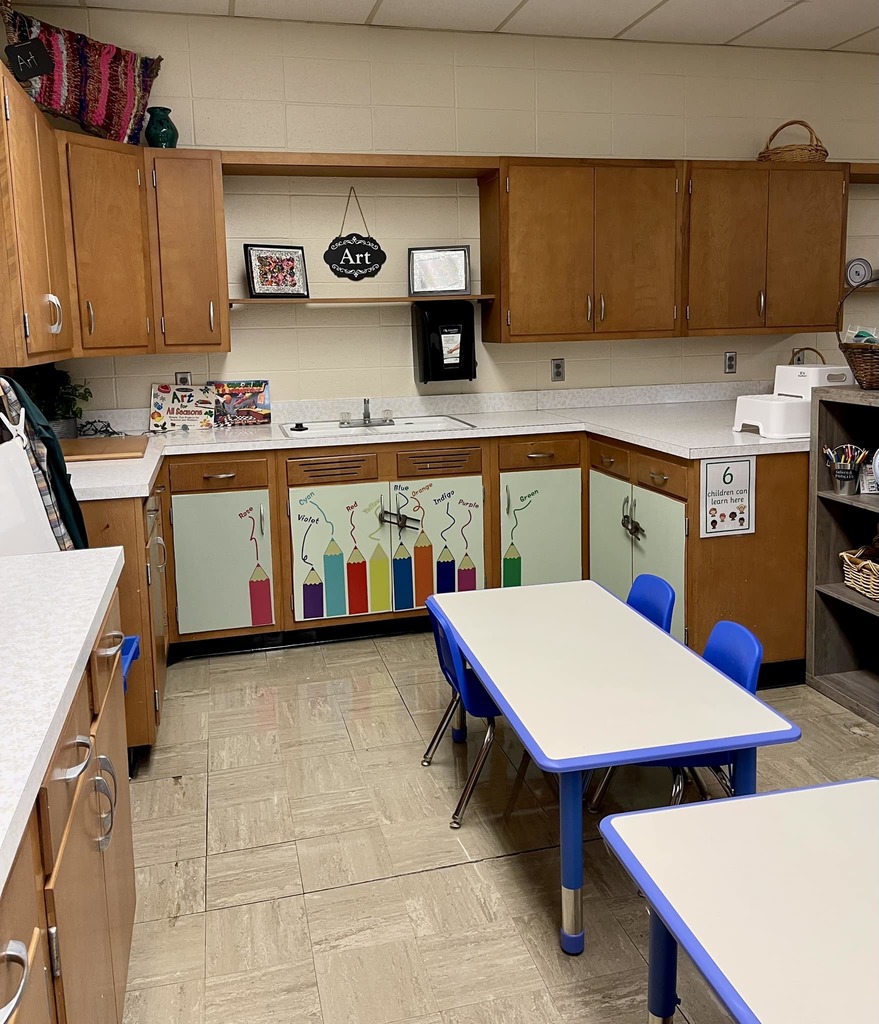 Who needs Titan wallpaper? GO TITANS!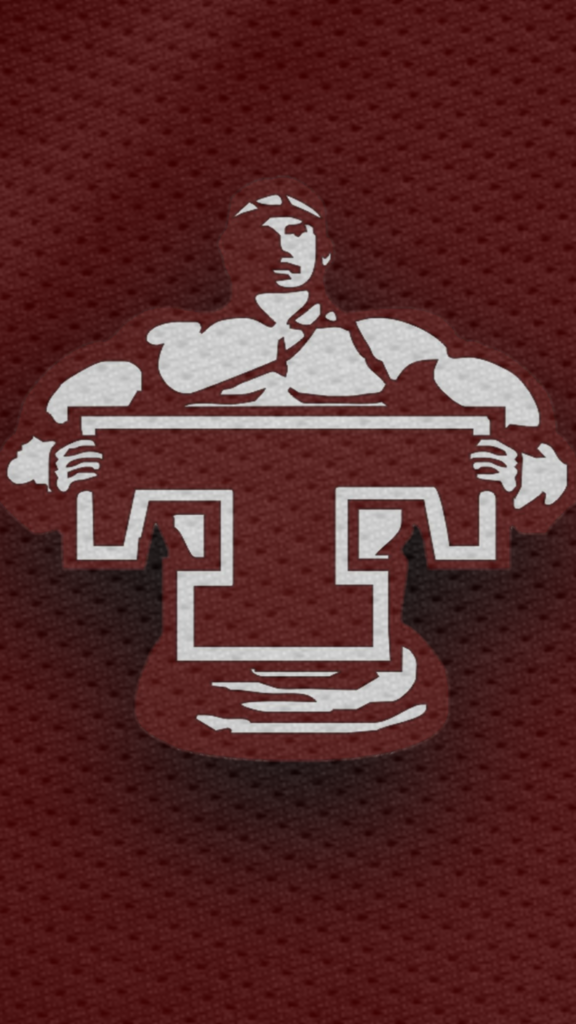 The South Henry School Corporation continues to work hard to stay on the front edge of new and exciting initiatives across the state of Indiana. With this said, we learned today that we were one of only 30 corporations in the state awarded the Digital Learning Coach Mini-Grant through the Indiana Department of Education. This grant will allow our amazing elementary PLTW teacher, Amy Stevens, to seek ISTE certification. This certification helps ambitious educators like Mrs. Stevens catalyze learning through the use of technology. Great things are happening at South Henry!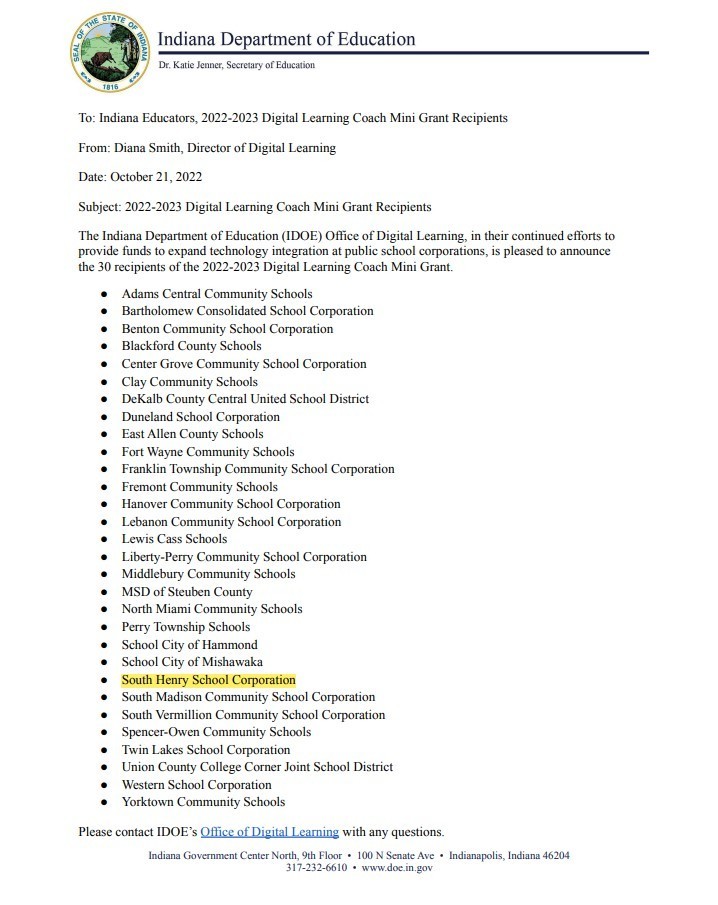 It's starting to smell like Tourney Time around the hallways here at Tri! This Friday, our 8-1 defending Sectional & Regional Champion Titans take on the 9-0 North Decatur Chargers right here at Dennis Gipe Field. Titan Country, we need you loud and proud on Friday! Thank you in advance for representing us with dignity and class! GO TITANS!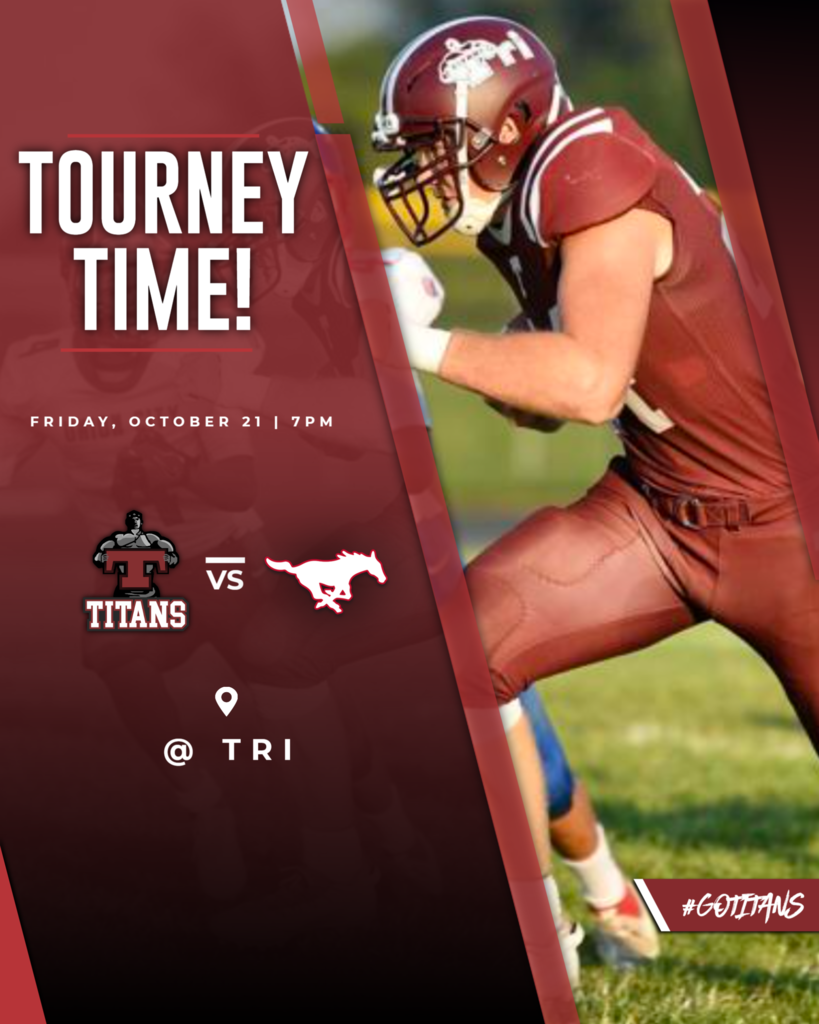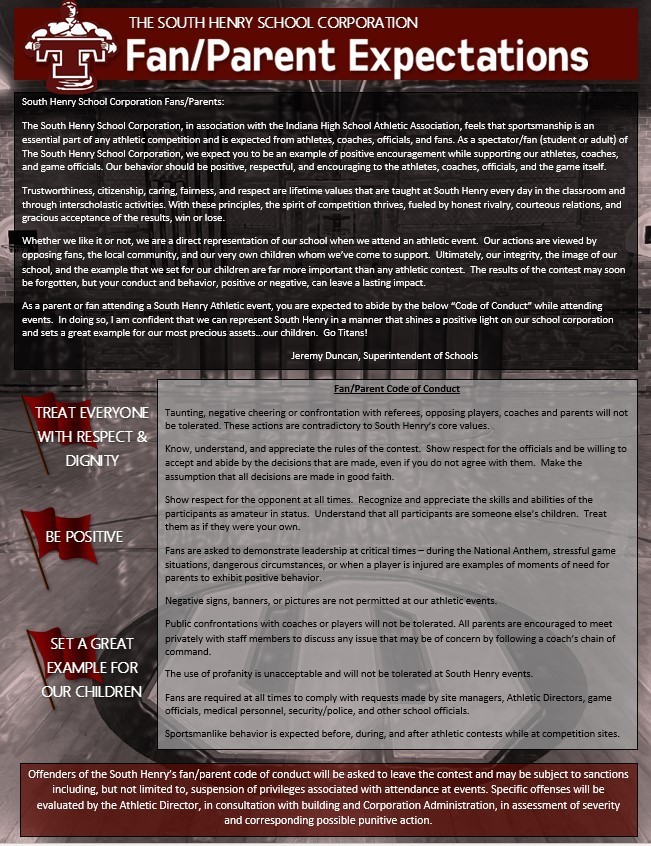 And so it begins! Day 1 of girls basketball practice. It's going to be a great year!

Nathan Carmichael and Jillian Chew represented us well at the IHSAA Cross Country Regional this past weekend in Rushville. Nathan finished 43rd and Jillian 7th. Jillian's performance earned her a trip to the Semi-State next weekend. We are proud of both of you! Go Titans!